By Mister X
I would like to remain anonymous because I am touching on a very sensitive topic called RACISM. Below is the definition of RACISM, and this is currently going in the boxing world and the main target is an Asian boxer named Manny Pacquiao.
rac·ism
[rey-siz-uhm]
–noun
1. a belief or doctrine that inherent differences among the various human races determine cultural or individual achievement, usually involving the idea that one's own race is superior and has the right to rule others.
2. a policy, system of government, etc., based upon or fostering such a doctrine; discrimination.
3. hatred or intolerance of another race or other races.
I want to speak out against racism coming from a lot of black power boxing fans that's been bothering me for a while, it seems they got a  real problem with an Asian man being called one of the greatest fighters of all time.
I'm a young black American male who loves the sport of boxing, and my favorite fighter happens to be Manny "Pacman" Pacquiao. I think he is the greatest fighter of my era and the best thing to happen to boxing in a long time.
Manny to me is the greatest ambassador and kitchen soup for the soul story in boxing and sports today. This man came from nothing and made something of himself, he never complained that his race kept him down or everyone was against him, he stayed focused and became one of the best boxers of all time and a hero to his people. This is why I am a huge fan of this man. He inspires me because this poor third world man with no education was able to be someone in life, he came from the poorest and most hopeless of situations but through the grace of God and his strong self belief he never gave up. Manny believed in his dream and never pitied himself because he is a real man not a complainer or crybaby when things don't go his way like Floyd Mayweather Jr.
If I praise Manny Pacquiao over Floyd Mayweather Jr. or say he is one of the greatest boxers to ever live, I get hate mail or private messages on my YouTube page, message board, and social network accounts. The sad thing is the majority of the messages coming my way are from black males. They have a problem with me because I am a fan of an Asian fighter over a black fighter. I've been called a House N#gger an Uncle Tom, a Pactard, not proud of my black roots, traitor, white washed, a guy who doesn't know shit about boxing you name it, I've been called it.
And I don't give a damn bout what some of the racist Filipino fans say towards people who don't like Manny. I don't support a racist Filipino or Black or whatever you are, if a Pacquiao fan spewed that racist garbage about black people or any other race of people to me, I wouldn't even wanna shake that mans hand or acknowledge him because he ain't a real fan of Manny Pacquiao. Those type of ignorant fans don't speak for Manny Pacquiao so they don't affect my admiration for the man. But racism isn't always racial slurs and name calling, racism like the definition posted above my article, means you feel your own race is superior to others, and even though a lot of the black guys making videos or blogs discrediting Manny Pacquiao don't use racist words or slurs they are showing racial superiority when they say Manny ain't a great cause he never fought a slick black fighter, meaning slick black fighters are superior than any other race of fighter in the world. If Pacman was black, I bet they would be singing a different tune, and praising his butt off and not criticizing his wins.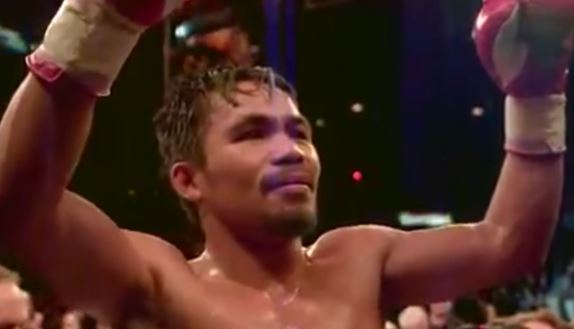 Oh yeah, Don't call me a "PACTARD" just cause I like Manny Pacquiao and you don't agree with my opinions. That word "PACTARD" is a disgusting word, insulting anyone who likes Manny Pacquiao like they are retarded or born with mental problems it's pathetic.
I think we live in a time now that we gotta stop this racism crap. Why do all these black power guys have such a big problem with a Filipino boxer being held as one of the greatest fighters of our time? The private messages I receive telling me I am a disgrace to black people because I support an Asian fighter over my own people make me sick. I am a proud black American, don't tell me who the hell I should support! Why do I gotta support someone just cause he is the same skin color as me even if that guy is a jerk or asshole. I don't give a damn bout the color of your skin, I only care what type of person you are, so don't ever tell me I don't know shit bout boxing because I say Manny Pacquiao is the best around.
I happen to like Manny Pacquiao cause even though he ain't black I can relate to him more than I can Floyd Mayweather Jr. Manny is humble, grew up poor, doesn't show off, likes to smile and fights to please the fans. And most importantly he respects people of all races and never wishes ill will on anyone. I ain't one of those young brother's infatuated with Mayweather's thug image, his swag and bling, that shit don't impress me, money can't earn you love or respect, Mayweather is never going to have what Manny Pacquiao got and that's the love and respect of people from all different backgrounds.
And stop being some damn hypocrites accusing this man of STEROIDS, first he fights weight drained fighters but when Floyd Mayweather said Pacman might be on steroids or power pellets they gonna take that guys word for it. If you buy into the Mayweather steroid accusations against Pacquiao then you need to slap yourself.
It just seems the majority of people who try to boycott Manny Pacquiao's fights on YouTube or have a problem with him are black folks. If you are black and you happen to pick Manny over Floyd Mayweather be prepared to receive hate mail from some ignorant black supremacists, who actually think racism means discrimination against blacks only.
Like President Barack Obama said it's time for CHANGE. You ain't gonna go anywhere in life you think everyone is against you.
*Please refrain from leaving any Racist, Profane or Derogatory comments*
Got an Opinion? Submit Your Articles and Press Releases to be posted on NowBoxing.com