TMZ has obtained exclusive surveillance video footage that was taken by security cameras immediately after the alleged September assault on Josie Harris by boxing star Floyd Mayweather Jr.
The video captures Floyd and Josie's children  early morning at around 5 AM on September 9, 2010 rushing into a security guard station to be with their mother who was in the station to seek refuge after the alleged assault by Mayweather  and several minutes later it shows police and medical personnel arrive taking Josie Harris away on a stretcher with her covering her face.
Floyd has been on a downward spiral ever since the second failed negotiations for the Manny Pacquiao fight. Floyd's main reason for not fighting Manny Pacquiao is due to the unproven allegations by the Mayweather family that the Filipino boxer is on steroids or power pellets.
Floyd Mayweather  is currently on vacation, but will be due back in court on January 24, 2011 and was ordered to stay away from Ms. Harris and their kids.
Watch the Aftermath video on TMZ click the image below: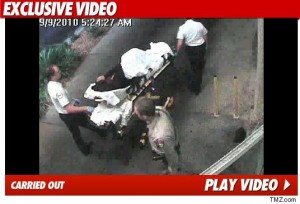 *Please refrain from leaving any Racist, Profane or Derogatory comments*
Got an Opinion? Submit Your Articles and Press Releases to be posted on NowBoxing.com
JOIN the NOW BOXING FORUM to discuss this and other boxing news topics (membership is FREE)