Sensational unbeaten Light Middleweight prospect Erick 'The Eagle' Ochieng is set for the toughest test of his fledgling career, when he comes up against the British Masters Light Middleweight Champion Lee 'Lightning' Noble in a non-championship contest, on the undercard at the Frank Maloney promoted Commonwealth Super Bantamweight title showdown between Jamie Arthur and Jason Booth at the Brentwood Centre on Saturday 5th February 2011.
Erick is proving to be one of the most talented crowd pleasing young fighters to emerge on the London scene over the past few years. Currently unbeaten in five outings, two by way of stoppage, Erick has had some magnificent victories, including beating Curtis Valentine in a fight dubbed "Battle of the Unbeaten', but by far his most impressive performance to date was his total domination, and fourth round stoppage, of Alex Spitko at the Steve Goodwin promoted 'It's Personal' event back in September.
Lee Noble is without doubt a step up in class for young Erick, as Lee is also the former British Masters Middleweight title holder as well as current British Masters Light Middleweight Champ. Lee's last two fights have been championship bouts, back in November he faced Brian Rose for the vacant English title, which he lost on points.
Prior to that he beat Erick's Ultrachem TKO Gym mate 'Phat' Pat McAleese, by a ninth round knockout to lift the British Masters crown. Ringside that night was none other than Erick, who earlier in the night had stopped Alex Spitko.
Following a training session, at the Ultrachem TKO Gym, under the watchful eyes of manager-trainer Brian Lawrence a confident Erick took a little time to talk about the upcoming showdown, "Yeah it's Lee Noble. Pat's asked me to do him a favour, so I'm gonna take care of business.
I've watched him fight, so I'm just gonna box him, make him eat the jab and then take him out.
Everyone will see how good I am. I'm a World Champion in the making. As I say I am already World Champion, just they don't know it yet.
My taking this fight everyone can see what type of fighter I am. He's a good fighter, a champion, I'm just stepping up the ladder. You've got to fight these kind of guys if I'm gonna make my way to the top, which I am.
You know what, It's gonna be a win if it comes by KO it's all good but if it goes all the way and it's by points so it goes. It's gonna be a win.
It's my first six rounder, I'm gonna pace myself, look good and please my supporters as it's gonna be a win either way."
A smiling Brian Lawrence then added, "Yeah Lee's more far more experienced and is more durable than the original opponents. It's gonna be a tougher fight but I still expect Erick to deal with him.
You've got to beat these kind of guys if you want to go to the top.
I would expect Erick to stop him, but if it does go to points we'll settle for that as we expect the win either way.
It's gonna be an exciting fight."
Erick 'The Eagle' Ochieng, against Lee 'Lightning' Noble will feature on the undercard of the Frank Maloney promoted Jamie Arthur vs Jason Booth Commonwealth Super Bantamweight title clash at the Brentwood Leisure Centre, Brentwood, Essex on Saturday 5th February 2011.
Also featured on the card will be a six round Super Flyweight contest which pits former British Bantamweight Champion Martin Power against the unbeaten Ashley Sexton.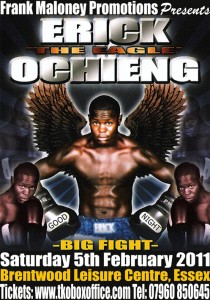 Commonwealth Gold and Olympic Bronze medalist Heavyweight David Price will be in action against South Africa's Osborne 'Big Daddy' Machimana. In another Heavyweight bout Tom Dallas also gets African opposition, this time in Zambia's Francis 'Galagata' Zulu.
Southern Area Cruiserweight Champ Leon 'Solid' Williams gets to take on the mega tough Blackpool based Slovakian Richard Turba in a non-championship bout.
Belfast Super Flyweight Jamie Conlan gets to pit his unbeaten, in five, record against Exeter's Lewis Browning.
Malmesbury, Wiltshire's Welterweight Joe Hughes gets his second outing against the highly experienced Johnny Greaves from East Ham.
In addition Middleweight Johnson McClumpha, Light Welterweight Karl Place, Middleweight Tony Hill, Super Bantamweight Lewis Pettitt, and Welterweight Martin Welsh are also featured, against yet to be named opposition.
Tickets, priced £30, for Erick 'The Eagle' Ochieng vs. Lee Noble at the Arthur vs Booth Commonwealth title fight event are available to buy on-line at www.tkoboxoffice.com or call 07960 850645.
Got an Opinion? Submit Your Articles and Press Releases to be posted on NowBoxing.com
*Please refrain from leaving any Racist, Profane or Derogatory comments*