Tottenham's Michael Grant is set to return to the ring, after a year long sabbatical from the sport, at the Steve Goodwin promoted 'UNLEASH THE FURY' mega event at York Hall in Bethnal Green, London, on Saturday 5th March 2011.
Michael, who was one of the most exciting young Light Welterweight prospects to explode on the British Boxing scene in the middle naughties, dropped from the radar back in February last year, following his surprising loss to Steve Williams at their clash for the vacant English title.
As the New Year dawned Michael reappeared at long time manager-trainer Johnny Eames' Ultrachem TKO Boxing Gym in Canning Town and started training in earnest again.
With the news that TKO's Nathan Weise had to drop out, of the 5th March show, MIchael instantly put himself forward as a replacement, and surprisingly deciding to enter the fray at Lightweight rather than his usual division.
Following sparring sessions, with TKO team mates 'Pretty' Ricky Boylan and Sam Standing, Michael explained why he took the break and also his switching to the Lightweight division, "There was a lot of things, outside boxing, that were happening in my life and I really needed to sort that out first. I can't box if I'm not one hundred percent.
Everytime I get in the ring I want to be one hundred and ten percent but I couldn't do that at the time. Yeah, now I'm back, and back in full effect.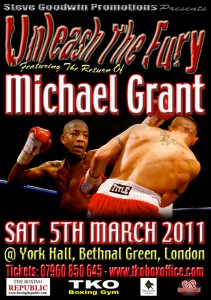 I think I will be a lot stronger at Lightweight. At Light Welter I could handle the weight, I could compete against people at that weight even those that were a lot bigger than me, but I feel I'll be even stronger at Lightweight.
They're gonna be amazed, this time out is different. My attitude, my discipline to the sport, everything is different this time. It's going to be amazing. everyone's gonna be shocked when they see me back in.
This time as a Lightweight I'm gonna be stopping a lot more people and going all the way. Whether it's 6, 10, 12 rounds it doesn't matter, I feel a lot stronger in myself, mentally and physically. It's gonna be mad, I can't wait to get back in there."
Michael Grant, against a yet to be named opponent, will be on the undercard of Toks Owoh versus Billy Boyle at the Steve Goodwin promoted 'Unleash The Fury' event at York Hall, Bethnal Green, London on Saturday 5th March 2011.
Main support for the Owoh-Boyle headliner features Michael's Ultrachem TKO team mate – the exciting London based Dutch Cruiserweight – Mitchell Balker versus Doncaster hard man John Anthony.
The Unleash The Fury undercard features some of London's best upcoming talents and includes yet another of Michael's Ultrachem TKO Gym mates 'Dynamo' Daryl Setterfield against Birmingham's Andrew 'Paddy' Patterson.
Minster. Kent Light Heavyweight Dan 'Woody' Woodgate gets his third outing against Retford's Lee Nicholson and Waltham Abbey Light Welterweight Phil Gill looks to take his unbeaten run to ten against Aysham's Scott Moises.
Luton Lightweight Michael 'Chunky' Devine makes his welcome return to the ring, following his coveted '0' to Mark 'The Flash' Alexander last year, and will be looking to get back to winning ways against the highly experienced Daniel Thorpe.
Biggleswade Light Middleweight Jamie Boness will be looking to extend his unbeaten record against Guildford's Louis Byrne and Woolwich Super Middleweight Eder Kurti faces Welsh banger Jamie Ambler.
Unbeaten, in twelve, Hackney Middleweight Wayne Alwan-Arab is set to face Tooting based Bulgarian Danny Dontchev.
Another of Michael's Ultrachem TKO gym mates, Caine Brodie, also features on the card against a yet to be named opponent.
Making their pro debuts at 'Unleash The Fury' are Harlesden Lightweight Met Sekiraqa, against Robin Deakin and former World Kick Boxing Champion, Llir Canolli, from Cosavo, against a yet to be named opponent.
Tickets for Unleash The Fury at the York Hall, Bethnal Green, London on Saturday 5th March 2011 are on sale now – priced £35 (Unreserved) or £60 (Ringside).
For tickets call: 07960 850645, book on-line at www.tkoboxoffice.com or in person at The Ultrachem TKO Gym, Gillian House, Stephenson Street, Canning Town, London E16 4SA.
Got an Opinion? Submit Your Articles and Press Releases to be posted on NowBoxing.com
*Please refrain from leaving any Racist, Profane or Derogatory comments*