By Gary Purfield
Former four division champ and hall of fame boxer Pernell Whitaker is now training Zab Judah for his upcoming IBF junior welterweight title fight March 5 against Kaizer Mabuza.  Main Events Promotions brought the legend and defensive master known as Sweet Pea on believing he would be a perfect fit to guide Judah who attempts to make a late resurgence in his career.
Judah who has been a champ at junior welterweight and held the lineal title at welterweight was once considered one of the brightest stars in boxing.  Now as Judah tries to regain a position at the top of the sport he learns new tricks from one of the greats.  Main Events held a teleconference this Thursday where Whitaker discussed training Zab and various other topics.  The former champ and current trainer was very candid and often humorous.  We will start with my questions for Sweet Pea and then highlight some of the other topics discussed.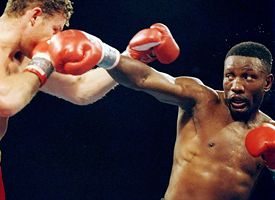 I asked Pernell what he saw in Zab's abilities and what changes could be made to Zab's style at this point in his career.
"Zab had the mentality of a gorilla, trying to do things in a small amount of time and that's not his style.  He was being a knockout artist and trying to prove he can punch with the best and that's not his style.  He is a finesse fighter, he has probably the quickest hands in the sport, he has power, and all those things come together."
I followed up asking Pernell if he was happy so far with Zab implementing the changes.
"You can't even imagine the feelings I am having right now about this kid.  This man is doing everything, he is like a student all over again.  It is like teaching or re-teaching him some of the best things about himself.  No one probably knows Zab better, other than his father, than me about his fight game.  It's been a pleasure and it has been easy for me to transform Zab back to who he is.  I'm given him all the things I know that he can do very well and please the crowd.
On training camp: "He has been willing to learn from day one and has put aside all the differences of his past fights, so far unbelievable.  You will know for sure what kind of fighter he is going to be on March 5."  Pernell stated his role in camp is "Commander in Chief."  Later Whitaker discussed how some camps many people are involved in camps and talked about clowns in the gym.  Whitaker discussed how that never happened in his camps and he is not going to allow it to happen in this camp.  Pernell would not get into his strategy or game plan for the Mabuza fight but did say "get your popcorn, your soda, your beverages, have a seat, and strap your seatbelt on because it is going to be a good ride."
On if a fighter can change at this point in his career referring to where Zab is in his career: "Of course.  He is doing everything I ask him to do and some of the things I ask him to do he does better than me."
On the 140lb division: "When he boxes the way he knows how to box I can't see anyone in the division out boxing Zab."
On being part of camp and a big fight: "I'm very excited about working with Zab.  Zab has been a protégé of mine so I am glad to have the opportunity to work with him.  The things I have seen him do in the past I didn't like, didn't think that was his type of fighting, a lot of those fights made me cringe.  So now that I get the opportunity to show him the mistakes and have him be a student all over again it's been phenomenal.  Zab has done everything, he has been looking me right in the eye and wants to know these things.  He is a finesse fighter and not a gorilla style fighter which he tried and that didn't work.  Now I am here to get him back to what I know works for him.  I am gonna put all those things together, the finesse, the speed, and the power and put all those things together as one and let him work it out on March 5."
When asked if he missed the sport of boxing (and about current boxing in general) Pernell responded "I have not seen anything to miss.  The only fighter that I really like doesn't even live in the country" (referring to Manny Pacquiao).  Pernell stated he likes Pacquiao and stated he feels Manny is the best fighter today.  Pernell was asked the problem and he stated "I know what the problem is, these guys don't want to get in the damn ring, excuse my French.  Everybody wants to promote, wants to get deals, but nobody wants to fight.  If you want to consider yourself the best get in the ring and fight the best."  Pernell went on to say "I have not seen anything to make me excited in the sport but I know you will on March 5."
Pernell also stated he would likely be attending the Hall of Fame induction this year for Mike Tyson.
On his current relationship with Paul Spadafora who Whitaker trained in the past Pernell felt he was fighting too many tune up fights and stated you can't expect results from that.  Pernell went on to state "I love the kid, I think he is one of the hardest working fighters in the sport.  Pernell stated he would love to work with him and would never turn his back on him."
Main Events CEO Kathy Duva was asked to compare working with Zab at the beginning of his career and now.
"Completely different and in some ways the same.  He still has the energy and is still fun.  He is so much more grown up now.  Before we were trying to corral literally a teenager and now he knows what he wants, where he is going, and what he has got to do to get there.  It is a wonderful different experience in that respect."  Duva further discussed Zab in reference to working with Pernell stating you can see and hear how much confidence Zab has.
Judah has a great promotional company in Main Events behind him and is now being guided by one the true scientists of the sport (Whitaker referred to himself as a scientist in the conference).  With the natural talent and athletic ability Judah has been given he certainly has the ability to jump back to the top of the sport.  In addition he is in one the really loaded divisions so getting good fights should not be difficult.  Unless he does put everything together such as the speed, power, and finesse discussed by Whitaker and the maturity mentioned by Duva.  If he does that some of the top junior welterweights may want to avoid him.
Question, comment, agree, disagree, or anything at all, send it to gpurf3@hotmail.com
Got an Opinion? Submit Your Articles and Press Releases to be posted on NowBoxing.com
*Please refrain from leaving any Racist, Profane or Derogatory comments*