By Chuy Marco
When the young rising star out of Mexico, Saul "Canelo" Alvarez, held his open work out before his anticipated title fight against Ricky Hatton's brother Matthew Hatton for March 1st, his promoter Oscar De La Hoya made the statement that Canelo is the one to defeat Manny Pacquiao.
Oscar should know because he's faced Pacquiao in the past when he was drained and at the end of his career and Manny couldn't knock him out.
Canelo is huge in Mexico and his following and popularity is growing even more, he already has gorgeous women and young ladies following him because of his good looks and a win this Saturday night on HBO for the WBC Junior Middleweight Title will make him a world champion and bring him a step further to greatness.
What separates Canelo from the rest of the young fighters today is his patience in the ring and his experience, he has over 30 fights and is only 20 years old, and will be a champion before he turns 21 when he knocks out Matthew Hatton for the WBC belt.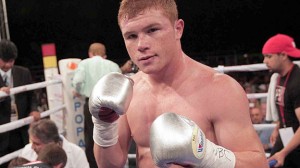 The key factors on why Oscar De La Hoya speaks the truth when he says Canelo will beat Pacquiao are his youth, size and power, and his ring intelligence. Even at the young age of 20, Canelo fights with the wisdom of a boxing veteran and is a focused counter puncher who doesn't rush face first but rather pick his punches and dissect his opponent.
Manny "Pacman" Pacquiao would be easy for Canelo to beat. The only problem is Pacquiao's promoter won't put his fighter in against a young hungry fighter who isn't past his prime. But if given the chance, Canelo must survive the early blitz by the Pacman and after that he can pick him apart. If Pacquiao couldn't drop a shell of Oscar De La Hoya, he won't be able to dent a fighter in his prime like Canelo. The jab is all it takes to beat the Pacman, if Canelo can use his jab and follow it with a powerful hook he can knock Pacquiao out.
Remember the name Saul "Canelo" Alvarez and tune in to HBO on March 5, 2011 because you will be witnessing greatness and you don't want to miss out.
Got an Opinion? Submit Your Articles and Press Releases to be posted on NowBoxing.com
*Please refrain from leaving any Racist, Profane or Derogatory comments*

Big time boxing fan. Grew up in East Los, and been an avid follower of the sport and the legends like Julio Cesar Chavez, Vicente Saldivar, Salvador Sanchez, Carlos Zarate, Erik Morales, Ricardo Lopez and Juan Manuel Marquez just to name a few.
Current favorite boxers: Canelo Alvarez, Mikey Garcia.