By: Coach "K"
(March 8th) Next Thursday March 17th Star Boxing's "March Mayhem" fight card at the Plattduetsche Park Restaurant in Franklin Square, NY. headlines Huntington, New York unbeaten light welterweight Chris Algieri, 10-0, 5KO's against Philadelphia, Pennsylvania's "Marvel" Julias Edmonds, 7-10 but the bigger story may be the return to the ring of four time US National Champion and 2008 U.S. Olympic Team alternate Adam Willett.
Willett a cruiserweight from Bellport, Long Island is making his return to the ring after suffering a gun shot to the chest after going to the aid of two girls being harassed by a car full of men. Willett had a brief verbal exchange with one of the men before they sped away only to return and shoot the 28 year old security guard who was returning home after work.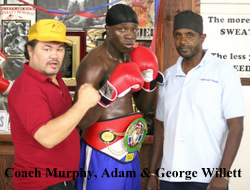 Willett was rushed to Stonybrook Hospital where under an induced coma he underwent emergency thoracic surgery. Shortly after waking from his surgery Adam asked his father George if he would be able to box again and after hearing his dad's enthusiastic yes he sees his pro boxing career from a different perspective.
After a week in the hospital and months of rehabilitation therapy including a personal trainer Adam then returned to Atlantic Veterans Memorial Boxing Gym and his old trainer Mike Murphy in Shirley, NY to resume his boxing career.
Willett now fighting under the moniker of "Showtime" is 1-1 and returns to the sport he loves with a new outlook and a brand new enthusiasm. "I always loved boxing, but after being shot I realized I don't just love it, but I can't live without it. I made a decision that day lying in the hospital bed that I didn't just want to come back to come back, I wanted to come back and be the world's greatest."
"I'm extremely eager, and excited, there really are no words to describe how much I want this. God, the all mighty, gave me a second chance and I'm taking full advantage of it. I'm a new man starting over but ready to take on the world as it comes. I want to thank everyone who stood by my side."
Two weeks after the shooting the Suffolk County Police arrested two men charging them with aggravated assault.
Willett left with large medical bills will make his return on the undercard of "March Mayhem" against Phoenix, Arizona's Sharieff Hayes, 0-2.
To checkout Willet Go here!
Tickets for "March Mayhem" are priced at $100, $75 and $50 and can be purchased by calling Star Boxing at 718 823-2000, or visiting www.starboxing.com. Doors open at 6:45PM with the first bout scheduled for 7:30PM.
The Plattduetsche Park Restaurant is located at 1132 Hempstead Tpke, Franklin Square, NY 11010. for directions (click here).
, Adam "Showtime" Willett (1-1) will return to the ring for the first time since his life was nearly taken when he takes on Sharieff Hayes (0-2) in a four round heavyweight contest. The show, entitled, "March Mayhem" is promoted by Joe DeGuardia's Star Boxing, and is headlined by Huntington's popular undefeated jr. welterweight prospect Chris Algieri (10-0, 5KO's).
It was a warm spring day April 7th 2010. Bellport resident Adam Willett, who had turned pro boxer a year earlier after an illustrious amateur career which saw him become the number one ranked heavyweight in the U.S. for three consecutive years, was finishing up his day of work at the South Country High School in North Bellport Long Island. As he was getting ready to leave, Willet, who in addition to boxing, was working full-time as a school security guard, noticed that there was some commotion going on at the Miracle Plaza Shopping Center, located right across the street from the South Country High School. Two of the High School's students were being harassed by a few older men, so Willet immediately rushed to their aid.
Willett and one man argued before the man sped away in his car. While Willett was getting into his vehicle the man returned with a gun. Willett, who as a boxer is accustomed to dodging punches, was hit with a shot that he just couldn't get out of the way of. Willett had been shot once in the chest with the bullet from a high powered handgun. A fighter by trade for most of his life, Willett was now fighting for his life.
Willett was rushed to the hospital and immediately went into surgery. Willett would spend a week in a medically induced coma, as doctors monitored his progress.
As soon as Willett awoke from his coma, the first words that came out of his mouth when he turned to his father were, "Dad will I be able to fight again?" Upon hearing his father tell him yes, that's all the words of encouragement Willett says he needed.
"I never doubted his words of reassurance and I just took them and ran with it. I honestly believe it was those words that gave me such a speedy recovery."
Willett was back in the gym doing light training just four months after the shooting and while he admits the road back hasn't necessarily been easy, just like he has done the majority of his life, Willett has never stopped fighting.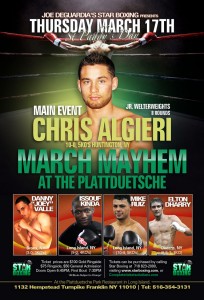 Looking back on the day Willett says, "You know me getting shot was a traumatic and life changing event for me. I don't remember a lot about what took place that day, everything is muffled in my memory bank. The only thing I can recall vividly is thinking about all the things I didn't get a chance to do, experience and accomplish. I kid you not when you go through something like I went through and almost dying, it really makes you think about all the things that are really important that we take for-granted every day. I just thank God I'm still here and still able to do what I love to do."
Optimistic people like to say that for everything negative, there is always a positive, and Willett is a strong believer in that.
"After the shooting I looked at life from a totally different standpoint. I realized after facing death and beating it that life is too short and you have to live it up to the best of your ability. I'm willing to do whatever it takes to make that dream become a reality. After the ordeal I have been through, I know that there is nothing that can stand in my way."
While he has been boxing since he was a teenager, the fight on March 17th will be special for Willett.
I truly appreciate all the prayers that went up for me and all the positive comments left on my behalf. I would like to send a special thanks to all those who kept me motivated and my mind focused on my ultimate goal of getting back into the ring. With that being said, Showtime Willett is back! I look forward to seeing everyone come out on March 17th."
Photo's by Bill Doutney
Got an Opinion? Submit Your Articles and Press Releases to be posted on NowBoxing.com
*Please refrain from leaving any Racist, Profane or Derogatory comments*