By Chuy Marco
First off, let's give it up for the Mexican warrior Erik "El Terrible" Morales! He showed us what boxing is all about, he is a true warrior and blood and guts fighter! He came in a fight to be a stepping stone to build up Marcos Maidana, but Erik schooled the most dangerous fighter in the junior welterweight division taking Maidana's best punches and hurting him repeatedly in return, something Amir Khan struggled to do against Marcos.
Morales was a shell of himself, but his heart and champion mentality willed him in that fight, his eye was closed shut in the first round and with only one eye he had his moments, I had Morales winning the fight 115-113, but the decision was given to Maidana.
Even though Morales lost the fight to Maidana, he won the fans over once again giving us a sample of the old Morales we came to know and love. One thing for sure is Maidana vs. Morales is the leading candidate for fight of the year so far! What a fight.
After watching Erik Morales put on a performance like that, it gave me more confidence in Sugar Shane Mosley's chances against Manny Pacquiao on May 7th.
I didn't like the Manny Pacquiao vs. Shane Mosley fight at all, and I still don't but you cannot count an old dog out, and Mosley is much faster and hits harder than Morales at this stage.
Mosley has an advantage that Morales doesn't, it's the fact that Mosley has never been in any real wars and doesn't have that many miles on him compared to Morales and other washed up fighters.
If Shane is motivated, he can destroy Manny Pacquiao easily, his only problem is his stamina, but Manny can get knocked out in the exchanges and there is no way that Manny will be able to throw those wild combos because Mosley never loses in a toe to toe brawl. The fighter with the superior chin and punch resistance will always prevail, and Mosley has an iron chin compared to Pacquiao, so, if they do trade you better believe Manny is going to hit the canvas first.
Look at this gif below, Mosley stops Antonio Margarito and hurt him worse than Pacquiao did. Also, if Pacquiao tries to stay on the ropes like he did against Margarito he could face the same fate that Margarito did in the animated gif below of Mosley vs. Margarito and lets not forget that Pacquiao's chin is nothing compared to Margarito's.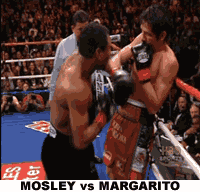 I think if Shane Mosley has a little bit of juice left in him he can pull off the upset and expose Pacquiao by countering him in the exchanges and knocking him out cold because Manny has never faced a fighter with Shane's speed or power.
If Manny Pacquiao beats Shane Mosley,  It's nothing new, it  just means he beat another old shot fighter that was carefully picked by his team. Manny Pacquiao would never be able to beat a prime Oscar De La Hoya or a Prime Sugar Shane Mosley, anyone who has been watching boxing for a long time knows this.
Got an Opinion? Submit Your Articles and Press Releases to be posted on NowBoxing.com
*Please refrain from leaving any Racist, Profane or Derogatory comments*

Big time boxing fan. Grew up in East Los, and been an avid follower of the sport and the legends like Julio Cesar Chavez, Vicente Saldivar, Salvador Sanchez, Carlos Zarate, Erik Morales, Ricardo Lopez and Juan Manuel Marquez just to name a few.
Current favorite boxers: Canelo Alvarez, Mikey Garcia.