By Lou Block
The Pacquiao vs. Mosley fight is getting closer, and the more I study this match up the more I am leaning towards "Sugar" Shane Mosley to win this, that's if he still has something left in the tank and can still pull the trigger.
Manny Pacquiao is not hard to figure out. He only has the same wild punching style, and when he side steps he always jumps out to the side after he throws a combination with his hands really low, and a good counter puncher will capitalize on that mistake easily, it's a good example of why Bob Arum and Freddie Roach match Pacquiao up with a certain style of fighter because they know Manny's weakness is smart counter punchers.
Here is an animated gif image of Manny Pacquiao getting caught by Juan Manuel Marquez after making the mistake of backing out with his hands down.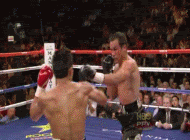 As you can see the superior boxer in Marquez was able to figure out Pacquiao's repetitive 1-2-3 punch combo and countered him just taking a step back to avoid the combo, and firing when Manny finished.
If Shane Mosley still has anything left, he will land with more power and more speed and should be able to knockout the overrated Pacquiao when he makes  amateurish mistakes like that.
The only reason Manny has been able to get away with all those mistakes and wild punching combination's is because he fights washed up fighters who are slower than him with no head movement or handspeed.
If you also watch the Joshua Clottey fight, Manny couldn't even break Clottey's guard and the few uppercuts that Joshua landed, Manny couldn't adapt and figure out a way to avoid or to lure Clottey out of his shell.
An intelligent fighter like a Floyd Mayweather Jr. or Juan Manuel Marquez will learn to adapt in a fight and would figure out a way to adjust and find openings with a guy like Clottey. Manny threw over one thousand punches and only landed under 300 of those punches on Clottey. Clottey also showed that Manny has no defense at all for an uppercut, and in Manny's recent fight with the slow almost sloth like fighter Antonio Margarito he got hit with more punches than he has ever been hit with at welterweight. If a slow washed up guy like Antonio Margarito is able to land that many punches on you, your defense must suck.
Let's not forget what Shane Mosley did to Antonio Margarito — Mosley was able to stop him. Besides the broken orbital bone, Pacquiao couldn't even hurt Antonio Margarito, in fact,  Margarito even said in his corner during the fight that Manny had no power.
Manny will for the first time face a guy who is stronger, faster, and has more angles and head movement than any of his previous opponents. Mosley's only losses came from slick defensive fighters and counter punchers with intelligence. Manny doesn't have any slick or defensive skills at all, he is not an adaptable fighter, and he doesn't have enough power to hurt Shane, his only hope is for Shane to be weight drained and gun shy, but if Shane comes out guns blazing, the Pacquiao hype train will get derailed.
Got an Opinion? Submit Your Articles and Press Releases to be posted on NowBoxing.com
*Please refrain from leaving any Racist, Profane or Derogatory comments*