Former Army boxer Sam Standing is used to a good fight, but come the 7th of May this will take on a whole new meaning for the 25 year old year old, from Plumstead, South London, as he takes a big step up, from amateur to professional status, and makes his pro-debut at the Graham Earl promoted 'Redemption Day' double title event at York Hall in Bethnal Green.
Standing, a former South East Divs Gold Medalist, has been getting the best possible preparation from his co-trainers Derek Grainger and Johnny Eames, at the TKO Boxing Gym in Canning Town, to ensure his transition from amateur to pro is as smooth a process as possible. Such is their faith in Standing that the esteemed pairing even enlisted the help of former IBO Light Welterweight World Champion Colin Lynes as his sparring partner.
Following one of the sparring sessions Standing took a little time out to talk about his amateur career and his upcoming pro-debut. "I started boxing when I was eleven, I started Thai boxing and then went onto boxing. I boxed for about six years and then I boxed for the Army for four years. I had fifty three amateur fights and eventually won the South East ABA, but lost in the finals of the National ABAs.
I'm learning the trade at the moment, been sparring Colin Lynes and working a lot with Derek Grainger. As I said I'm still learning the trade really, learning the pro style.
I don't know who I'm fighting yet, they've mentioned a few names but nothing confirmed yet.
I'm pretty excited and can't wait to give the pro game a go. Pretty excited to finally achieve what I want to really do, become a professional in the sport I love.
I'm going to give my all and hopefully come away with a tidy win on May 7th."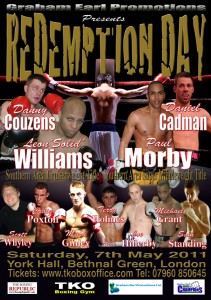 Sam Standing against a yet to be announced opponent will feature on the undercard of fellow TKO Gym mate Leon 'Solid' Williams' first defense of his Southern Area Cruiserweight title against Danny Couzens, which co headlines the Graham Earl promoted 'Redemption Day' double title headed event at York Hall in Bethnal Green, London on Saturday 7th May 2011.
Co-headlining will be the eagerly anticipated Paul Morby-Daniel Cadman rematch for the Southern Area Super Middleweight title.
Heading up the support card for the two title fights sees yet another TKO Boxing Gym mate, the sensational former English Light Welterweight title challenger Michael Grant, who will be making his first appearance as a Lightweight.
In addition to Standing and Grant, Graham Earl has lined up a seriously strong undercard featuring some of the Country's most exciting young warlords.
Former American Basketball star Emmanuel 'Manny' Oshunrinde will be hoping that his return to York Hall will be more satisfying than his previous outing there.
Oshunrinde was clearly robbed of his first win on British soil when his shortened fight with Jahmaine Smyle was declared a technical draw, following the fight being stopped, in the first round, due to a serious cut over Smyle's right eye.
Graham also has his exciting Light Welterweight Terry Holmes out for his third professional bout, against a yet to be named opponent. Holmes has proved to be nothing short of sensational on his two previous outings and Graham has big expectations for the heavy hitting nineteen year old from Stevenage.
Another big hitter, Belfast's Joe Hillerby, will also be getting his third outing. Hillerby, who debuted in October 2010, has made quite an impact on the scene. No surprise really, after all he is an all action heavy hitter with a knockout finish, as proved on his debut against Gavin Putney, which lasted just 43 seconds!
His second fight, against super tough Ryan Clark, lasted the full course and turned out to be one of the most action packed fights of the night at Graham Earl's excellent 'Capital Punishment' event back in January.
Lowestoft Featherweight Craig Poxton will be looking to get back to winning ways, following his loss to Youssef Al Hamidi a year ago.
Making their professional debuts at 'Redemption Day' are Belfast's Mark Ginley and Heavyweight Scott Whyley.
Tickets for the Graham Earl Promoted 'Redemption Day' event at the York Hall, Bethnal Green, London on Saturday 7th May 2011 are now on sale and priced £35 (Unreserved) or £60 (Ringside).
For tickets call: 07960 850645, book on-line at www.tkoboxoffice.com or call in person at The TKO Boxing Gym, Gillian House, Stephenson Street, Canning Town, London E16 4SA.