The peoples champ, Manny "Pacman" Pacquiao, won the ESPY award for the Best Fighter of the Year 2011, he also won the award in 2009.
This year the Filipino boxing sensation only had one fight, it was against Sugar Shane Mosley, but his 2010 destruction of Antonio Margarito was also recognized. It was enough in the eyes of the fans to merit him with the 2011 ESPY for Best Fighter, beating out stiff competition from the world of Boxing and Mixed Martial Arts.
The nominees that Pacquiao beat out were UFC welterweight champion Georges St. Pierre, UFC light-heavyweight champion Jon Jones, boxing legend and oldest man to win a world boxing title Bernard Hopkins, and middleweight champion Sergio Gabriel Martinez.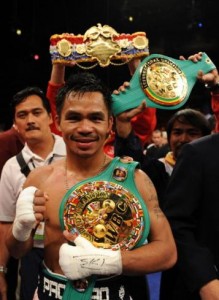 Boxing also won big with the Best Sports Movie of 2011 ESPY going to the Oscar nominated film "The Fighter," based on the life of former world champion boxer "Irish" Micky Ward. Mark Wahlberg played Micky Ward, and Christian Bale played Ward's brother/trainer Dicky Eklund a role that won him the Academy Award for Best Supporting Actor.
From 1993 to 2006, the Best Fighter ESPY award was formally called the Best Boxer ESPY, it was limited only to boxers, but since the sport of Mixed Martial Arts grew in popularity the award title was changed in 2007 to Best Fighter and included MMA fighters with Boxers as nominees. Since 2007 only two fighters won the ESPY for Best Fighter, Floyd Mayweather Jr. (2007, 2008, 2010) and Manny Pacquiao (2009, 2011).