TACOMA, Wash. – Undefeated Tacoma heavyweight Vincent Thompson steps back into the ring on August 27 when he faces Masataka Takehara in the main event of Battle at the Boat 83 at the Emerald Queen Casino in Tacoma.
Thompson improved his record to 8-0 with a unanimous decision over Kelsey Arnold on June 4.
In addition to his victory over Arnold, Vincent also scored an impressive victory over the previously unbeaten Charles Ellis, a former 2003 National Golden Gloves Heavyweight Champion on Nov. 13, 2010.
Thompson, however, will face his toughest challenge to date in Takehara, a former national champion and the No. 1 ranked heavyweight in Japan.
"This is a big step for Vincent," said promoter Brian Halquist, "but he's handled everything that has been thrown at him. He keeps improving with every fight. Takehara won't back down. It's going to be an exciting fight."
To prepare for the upcoming bout Thompson spent the last week training in Moscow, Russia under the watch of Teddy Atlas, who conditioned Michael Moorer to the world heavyweight title in 1994.
Thompson spend time sparring with top 10-ranked Alexander Provetkin (21-0), who will face Ruslan Chagaev for the vacant WBA world heavyweight title on Aug. 27.
The eight-round main event will mark Takehara's second bout in the United States as he has fought primarily in Japan and Australia during his professional career.
Takehara scored a six-round draw with Alex Leopai in July 2009. Leopai, ranked in the Top 20 in the world by some organizations, is 14-0-1 in his last 15 bouts with this draw to Takehara being his only non-victory
Highlighting the undercard will be a semi-main event between undefeated Oscar Andrade (6-0) and Mike Lucero (12-16-0).
First fight on the card will begin at 7 p.m. Tickets are $25, $45 and $100 and are available at the Emerald Queen Casino box office 1-888-831-7655 and at all Ticketmaster outlets.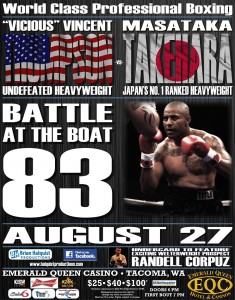 For more information please visit www.Halquistproductions.com.
BATTLE AT THE BOAT 81 CARD
Main Event
Vincent Thompson (8-0-0) vs. Masataka Takehara (6-4-5)
Semi Main Event
Oscar Andrade (6-0-0) vs. Mike Lucero (12-16-0)
Under Card
Aaron Schupp (2-1-0) vs. Edgar Zubia (1-0-0)
Randell Corpuz (0-1-0) vs. Nalo Leal (4-11-1)
Jose Rico (Debut) vs. Tommy Davis (Debut)
Darren Anzai (2-3-0) vs. Mike Gavronski
TICKETS
Tickets are available at the Emerald Queen Casino box office 1-888-831-7655 and at all Ticketmaster outlets. Or online at www.ticketmaster.com
Ticket Prices: *$100 – $45 – $25
Get up to date information at: www.Halquistproductions.com
For more information or fighter interviews contact event coordinator Marin McCauley at (253) 486-2141
* Includes VIP Party 5:00-7:00 pm at the Bridge Night Club.
ABOUT BATTLE AT THE BOAT EVENT
What: Battle at the Boat 83
Where: Emerald Queen Casino's I-5 Showroom
When: August 27, 2011
Time: Event starts at 7:00 P.M. Doors open at 6:00 P.M.