Mitcham, Surrey Welterweight Danny 'Cassius' Connor is confident that he will continue his winning ways, when he faces Aberystwyth, Wales' Sean 'Showtime' Gorman, at the Miranda Carter and Bruce Baker co-promoted 'Great Expectations' event at York Hall in Bethnal Green, London, on Sunday 18th September.
Connor, who is coached by Alec Wilkey at the TRAD TKO Boxing Gym in Canning Town, has managed to overcome a poor start to his professional career, where he drew one and lost four out of his first five bouts, and now seems to have his career back on track following two excellent wins just prior to the summer break.
It's clear that Connor is confident that his winning streak is set to continue, as earlier today he said, "He's a Welsh kid, so we know he's going to be fit, with all that sheep chasing they do up there.
He's gonna be strong obviously. He's had six fights but only won the one, so not too brilliant, but to be honest I don't take much notice of records as they are just numbers and at the end of the day records are for DJs aren't they.
We're just going to get in there and do the business, do everything that I've worked on in the gym with my coach, Alec Wilkey.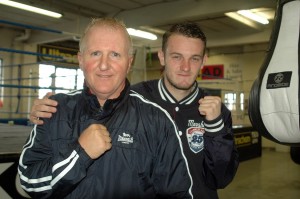 I'm looking to build on my recent wins. My first win was against Duane Grimes, who'd had one and got knocked out, that was by Glenn Foot who was a highly talented amateur who really adapted well to the pro game. He's probably five or six and o, he's a really, really strong kid.
Duane had been knocked out by him, he then boxed me and I just used my skills, I boxed him and out foxed him. He's obviously not a bad fighter as the fight after me he went to Southampton and knocked out by Floyd Moore.
In the second fight I boxed Danny Dontchev, yeah he's a journeyman, but he's one of those journeyman that don't know his role and comes to win. He uses his head and slings it in everywhere, so he's really messy. He's a bit of a scrappy fighter to be honest, but I did what I had to do and stuck with my plan, I didn't take no risks, used my jab and out boxed him.
Since then I've kept in shape and going to proper do the business this time, no ones going to recognise me, hands nice and tight, banging out body shots and that. Yeah, I've improved a hundred percent, everyone's going to see a different fighter on the eighteenth.
I can't wait to show everyone, I am so confident coming into this fight it's unreal."
Danny Connor versus Sean Gorman will feature on the Miranda Carter and Bruce Baker co-promoted 'Great Expectations', which takes place at York Hall, Bethnal Green, London on Sunday 18th September 2011.
Co-Headlining the show are British Light Welterweight Champion Ashley Theophane, against a yet to be named opponent, and Southern Area Cruiserweight Champion Leon 'Solid' Williams against Battersea's boxing Fireman Nick 'The Ox' Okoth.
Supporting the illustrious Theophane and Williams is a nine bout card featuring the cream of local talent.
Doors open at 2pm and the first bout is at 3pm.
Tickets for 'Great Expectations' are on sale now – priced £35 (Unreserved) or £65 (Ringside), book on-line at www.tkoboxoffice.com or in person at The TRAD TKO Gym, Gillian House, Stephenson Street, Canning Town, London E16 4SA. For further information please call 07960 850645.