Former Repton Amateur star Charlie Hoy makes his professional debut, against Newport's Darren Pryce, on the undercard of TRAD TKO Gym mate Leon 'Solid' Williams' British Cruiserweight title defense at York Hall in London on Friday, 13th January, 2012.
Hoy, who is trained by Jimmy and Mark Tibbs at the famous Canning Town gym, had a stellar amateur record of 68 fights, of which he only lost 10, and won various national titles, including three schoolboy ABAs, three Four Nations, three ABCs and reached the finals of the Senior ABAs in 2011.
Speaking earlier, Hoy obviously feels he is well prepared for his maiden pro-outing as he said, "I'm really looking forward to it, I'm excited to be debuting at York Hall on the 13th.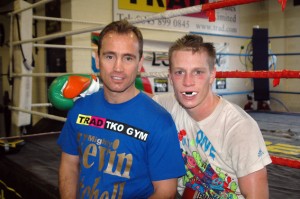 I have two great trainers, Jimmy and Mark Tibbs, behind me, so my preparations have been first class, as has the sparring.
I've had the best sparring I could possibly get, the best Super Flyweight in the country Michael Maguire, English Flyweight Champion Ashley Sexton and former British Bantamweight Champion Martin Power, there's nothing better than that really.
All the hard work's been done in the gym so I'm just going to go out there and enjoy myself and hopefully get a good win on the 13th."
Charlie Hoy, against Darren Pryce, features on the undercard of Leon 'Solid' Williams versus Shane McPhilbin for the British Cruiserweight title that headlines Francis and George Warren's Queensberry Promotions first event of the New Year, which takes place at York Hall, Bethnal Green, London, on Friday 13th January 2012 and broadcast live on BoxNation (Sky platform Channel 456 & Virgin 546)
Tickets, Standard Seated – £40 and Ringside SOLD OUT for Williams vs. McPhilbin are available now on-line at www.tkoboxoffice.com. Tickets are also available direct from the TRAD TKO Boxing Gym, Gillian House, Stephenson Street, Canning Town, London E16 4SA.