By Lester Salvador
For Manny Pacquiao and his fans excuses are nothing new, the Pacman's new nickname should be the "King of Excuses" because he seems to have an excuse for every fight he doesn't look good in or loses. For a so called peoples champion, Pacquiao never man's up to a loss, or just give credit to the opponent for being the better man, he always has to discredit his opponents dominant performances over him with excuses left and right.
The first time Manny Pacquiao made excuses was back in 2004 when he got a gift draw against Juan Manuel Marquez, he said that his foot was covered in blisters because of cheap socks he bought at the 99 cents store, his hand was hurt in the fight preventing him from throwing full blast, and the cut over his eye bothered him because he couldn't see clearly. Marquez made no excuses, because he knew he won and came back from 3 knockdowns to school the Pacman, a winner never makes excuses, look at Marquez his nose was busted and gushing blood from the first round and it was bleeding worse than the cut Pacquiao suffered, and Marquez never said the reason he only got a draw was because his nose was busted early and he couldn't breath. Marquez knows he beat Pacquiao 3 times that is why he never made an excuse or acted if his performance was poor, the Pacman knew he lost all three and that is why he has made an excuse every time like leg cramping, marital problems, and claiming that he took Marquez lightly three times (laughs).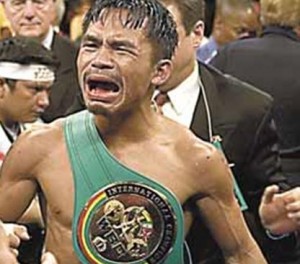 Let's not forget the other excuses coming from Manny like when he lost to Erik Morales in 2005 he blamed the commission taking blood from him a day before the fight, and that he had to use winning gloves instead of Cleto Reyes gloves, and that the ring was too big. What about his win over Shane Mosley when he couldn't catch Mosley or cut off the ring, he said that his foot was sore and his legs were cramping that is why the fight was boring and went to a decision.
Pacquiao is facing an undefeated fighter in Timothy Bradley, and Bradley is no pushover. I, just like many other boxing experts, feel Bradley has the chance to take Pacquiao's title on June 9th, and will make Manny look ordinary in the fight. If Bradley outboxes Manny, I could see him getting robbed the way Marquez was, and if Bradley knocks the Pacman out, we will see Pacquiao crying and giving excuses to why he lost. We already know that Manny will not take the high road and say that Bradley was the better man that night, instead we will see Pacquiao at the post fight press conference giving excuses, maybe he will say he was preoccupied with his Bible study and lost the killer instinct, or he didn't train early enough, or maybe he will say he had some type of illness going into the fight, you never know with Manny what type of excuses he will make up on the fly to discredit his opponents win.
We will have to wait and see what type of lame excuses Manny "King of Excuses" Pacquiao will use after his fight with Timothy Bradley on June 9th.
Got an Opinion? Submit Your Articles and Press Releases to be posted on NowBoxing.com
*Please refrain from leaving any Racist, Profane or Derogatory comments*
Discuss this topic in the NowBoxing Forums (Membership is FREE)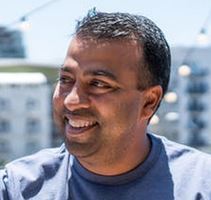 I love the sweet science of boxing and enjoy sharing my opinion on it.  Boricua!