After three false starts, the long awaited showdown, between former British Cruiserweight Champion Leon 'Solid' Williams and Southern Area Champ Tony 'Conqueror' Conquest, is finally set to take place, on the Olivia Goodwin promoted 'One More Round' event at York Hall on Saturday 7th July.
The last time this highly anticipated Clash of the Titans was due to take place was back in January, as Williams' first defense of his British Crown, however Conquest was forced to withdraw due to a viral infection.
With Conquest out Williams instead defended against Nottingham's Shane McPhilbin.
For eleven rounds Williams totally dominated the proceedings, including sending McPhilbin to the canvas twice. However after just thirty seconds of the final round things took a dramatic turn, for the worse, after McPhilbin landed a powerful clubbing shot, to the back of the defending Champ's head, which ultimately lead to the fight being stopped and a new British Champion crowned.
With no quick rematch with McPhilbin, or a shot at current British Champ Enzo Maccarinelli on the horizon, the only way Williams could get back into the Championship mix this year would be to challenge his good friend Conquest.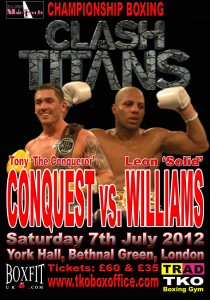 A situation that wasn't lost on the former Champ, as he made clear when he spoke briefly, following a training session at the TRAD TKO Boxing Gym, earlier. "Yeah it's a stepping stone, I know I gave up the Southern Area title before I beat Rob Norton and became British Champ, but it does lead to bigger and better things.
God willing, I'll get the chance to get my Lonsdale belt back after beating Tony on the 7th.
No make that Johnny willing, Johnny, my manager Johnny Eames, will do the business side for me, I've just got to win.
Preparation has been very good, sparring has been the best. I'm Dereck Chisora's main sparring partner, so that's good experience and I learn from it all the time.
This is really going to help me with the fight. Dereck's a very big, strong guy and after all this work Tony will feel like a lightweight in comparison – Thank you Dereck Chisora.
I'm not trashing Tony, he's a good friend of mine and a very good boxer, but there's no friendship when you step in the ring, you fight, and that's what we're going to do – fight.
Team Solid is back…and climbing the ladder to the top. Team Solid all day, every Day…Yeah."
Leon 'Solid' Williams versus Tony 'Conqueror' Conquest for the Southern Area Cruiserweight title co-headlines Olivia Goodwin's 'One More Round' event at York Hall in Bethnal Green, London on Saturday 7th July 2012.
Tickets, priced £60 (Ringside) and £35 (Standard Seated), for Leon Williams vs. Tony Conquest are available on-line now at www.tkoboxoffice.com – tickets are also be available direct from Leon Williams or the TRAD TKO Boxing Gym, Gillian House, Stephenson Street, Canning Town, London E16 4SA.