By Don Donatello
All three judges, Jerry Roth, Duane Ford, and the lone female judge, CJ Ross scored the fight by the same score of 113 to 115. Ford and Ross had it for Timothy Bradley and Roth scored it for Manny Pacquiao.
By now anyone who follows boxing has heard of the robbery in the ring. But to call what Ross and Ford had done as just a robbery is like calling King Kong just a gorilla, the Titanic just a boat, the T-Rex just a lizard, and the iPhone as just a cell phone. What Ross and Ford did should entitle them a generic label.
Trademarked names like Laundromat (Westinghouse) , Escalator (Otis Elevator Company), Zipper (BF Goodrich), Videotape (Ampex Corporation,, and Aspirin (Bayer) can no longer claim their brand as being protected by trademark law. These terms are now generic terms. Google will soon follow that path of losing trademark protection.
Pacquiao was Ford and Rossed. In the articles I've been reading after the Bradley/Pacquiao fight, there is not enough focus on boxing judges Duane Ford and CJ Ross. Obvious and extremely flagrant cheating on the scorecards should have its' own term, "Ford and Rossing" of the score. But we should not let the third judge, Jerry Roth, off the hook just because he scored it 115-113 for Pacquiao. What five rounds did Bradley win? According to Roth, Bradley won rounds 2, 7, 10, 11, and 12.
What fight were the three judges watching? CJ Ross gave Bradley rounds, 2, 5, 7, 8, and the last three rounds, 10, 11, and 12. Duane Ford scored rounds 1, 5, 7, 8, 9, 10, and 12 for Bradley. In 10 of 12 rounds, Pacquiao landed more punches than Bradley. The punch stat had Pacquiao landing a total of 253 punches to Bradley's 159. Pacquiao landed more power shots and was more efficient than Bradley.
Total Punches:
Pacquiao – 253 of 751 (34%)
Bradley – 159 of 839 (19%)
Power Shots:
Pacquiao – 190 of 493 (39%)
Bradley – 108 of 390 (28%).
There should be an investigation of the two boxing judges, CJ Ross and Duane Ford. If there is no investigation, it leaves it to interpretation that something was coordinated to bring in more money for a rematch that benefits Las Vegas and the big players of boxing.
There should not be a rematch. Why would Manny need a rematch? The only thing to be gained by Pacquiao in a rematch is a monetary one. Manny's record and reputation as a fighter is in no way tainted by the loss to Bradley, everyone knows that Manny totally dominated Timothy.
Having a rematch greatly rewards the bad corrupt side of boxing. The fans end up as the losers in a rematch. We don't need a rematch, we know who is the better fighter, there is nothing to be settled.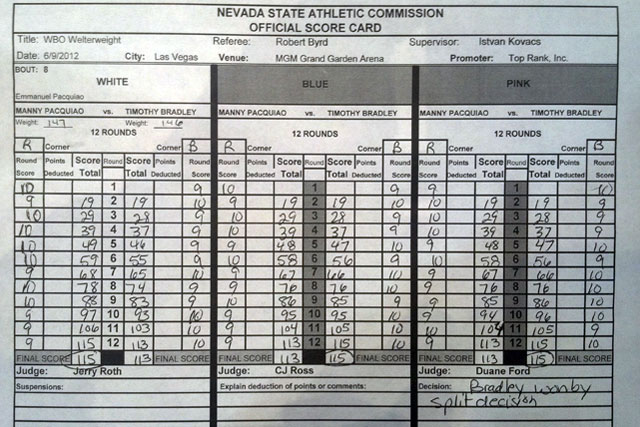 Got an Opinion? Submit Your Articles and Press Releases to be posted on NowBoxing.com
*Please refrain from leaving any Racist, Profane or Derogatory comments*