Evander Holyfield is the Brett Favre of boxing … minus the self-penis pics … 'cause less than 2 weeks after telling TMZ he was retiring, Evander says he's changed his mind.
The 50-year-old boxer was leaving Boa in Hollywood this weekend when he made it clear … he was just confused when he called it quits earlier this month … and says he WILL fight again.
In fact, Holyfield says he still believes he's a serious contender for the title.
When asked how many more years he has left in the sport, Evander responded, "I don't know … one day at a time."
FYI — the oldest fighter to ever win the world Heavyweight Championship is George Foreman … but he was 45 at the time.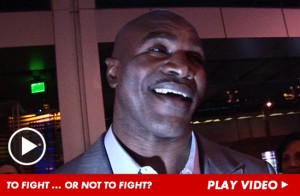 Article provided by TMZ
Tune in to TMZ on TV weekdays Monday through Friday (check http://www.tmz.com/videos for syndicated/local listings at the bottom of the page)