On Friday night, at the British Boxing Board of Control Annual Awards, one of the sports most colorful characters, TRAD TKO Boxing Gym supremo Johnny Eames, received an award for Sportsmanship.
Johnny has been involved in the sport of boxing for over thirty five years, during which time he has enjoyed great success, both as an amateur and professional coach, as well as a manager.
Johnny's amateur coaching career started when he was just seventeen years of age, as a coach for the nursery boxing squad at West Ham ABC, before moving onto coaching eleven years of age and upwards and finally moving to the seniors.
In 1999 Johnny applied for his pro boxing coaches license, in order to continue coaching his star student Kevin Lear. This partnership culminated in Kevin beating Michael Gomez to snatch the vacant World Boxing Union Super Featherweight World title in June 2002.
Unfortunately the successful partnership came to an abrupt end just three months later, following Kevin retiring shortly after his successful first defense against Kirkov Kirkorov.
Kevin wasn't Johnny's only Champion, WBU Lightweight World Champion Graham Earl owes his multi championship success to the Poplar born coach.
Other notable students of Johnny's include another former WBU World Champ, Tony 'Oakey Kokey' Oakey, WBU title challengers Ross 'The Boss' Minter and Matthew Marsh as well as former British Champions Martin 'Too Much' Power and Leon 'Solid' Williams to name just a few.
For the past eighteen months or so Johnny has had to take a step back from the coaching side – due to his suffering from cancer, which fortunately is now in remission – concentrating instead on fighter management side and organizing of the TRAD TKO Annual Boxers and Celebrities Charity Football Tournament, in aid of the Indee Rose Trust, even whilst under treatment for cancer himself.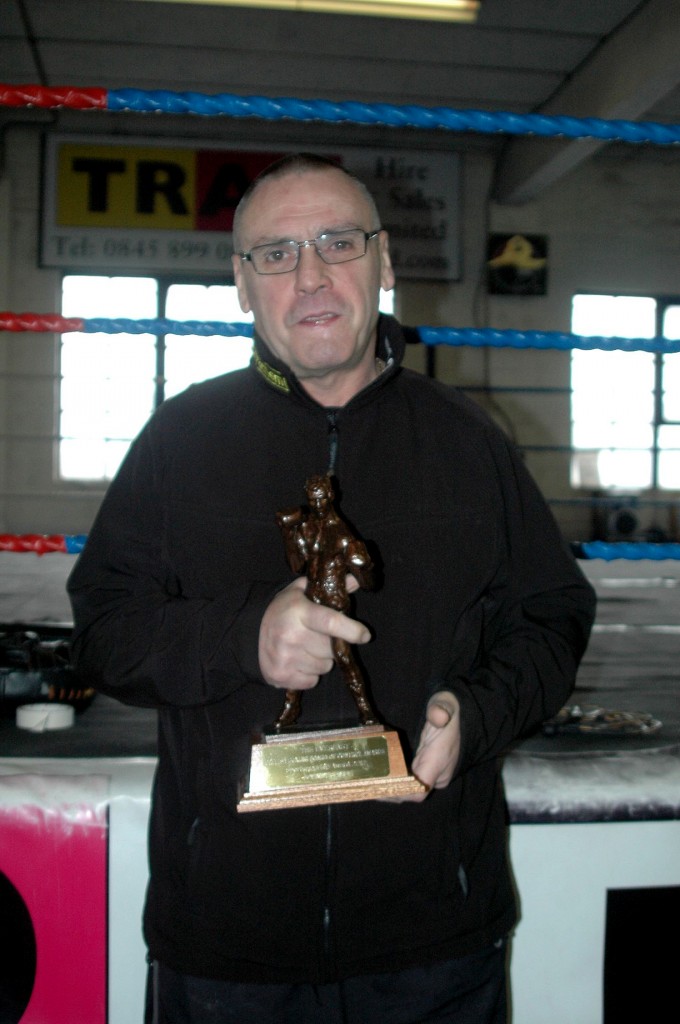 This magnificent tournament has raised in excess of £60,000 for the Indee Rose Trust, which provides support to youngsters suffering from brain and spinal tumours, thanks to such stars as Ricky Hatton, David Haye, Nathan Cleverly, Kevin Mitchell, Ricky Burns, Rendall Munroe, Billy Joe Saunders and oh so many more of the sports stars, as well as stars from TV, Film and Music, turning out to play.
It says so much of Johnny's character, that for the past three years these stars have willingly given there time to come and play for free.
Usually not someone that is short of words, Johnny struggled to find his voice, as he fought back the tears on receiving the award in front of his peers. When he spoke earlier the emotion of it all was clearly reawakened.
"It's amazing really, I've never received an award for anything in my life.
To be given an award from the British Boxing Board of Control is an honor and a privilege.
To be given it in front of the people I was given it, and them standing up and applauding, was quite moving really and I'm getting emotional again now.
Obviously most importantly for me is that this has created more awareness for the Indee Rose Trust, which is what it is all about.
I've had Dean Powell on the phone saying how the charity has reuniting a sport that's got lots of politics, I've never really thought about it that way, but I suppose it is really.
It's an honor, an absolute honor."
www.tkoboxinggym.com