By Bert Perez
Three years ago, when Juan Manuel Marquez was 36, he moved up from lightweight to welterweight to fight Floyd Mayweather Jr. at a catch-weight of 144 pounds. Marquez looked puny next to Floyd and had no muscle definition and a soft gut. It was hardly a surprise, though, since Marquez had never weighed more than 135 lbs in a fight and weighed less than 130 in 50 of his 55 fights to that point.
Now, Marquez's physique has undergone a transformation every bit as dramatic as the one baseball star Barry Bonds did in the second half of his legendary career. He has big, bulging biceps, thick shoulders and a wide, broad chest. He accomplished this after he turned 38 and only after he hired Angel Memo Heredia as his strength and conditioning coach.
Everybody knows that Memo was a key witness against track coach Trevor Graham during the BALCO scandal & Memo avoided prosecution by testifying against Graham. Most importantly, Memo admitted providing Graham's athletes, including Marion Jones, Tim Montgomery and Justin Gatlin, with steroids, EPO and human growth hormone.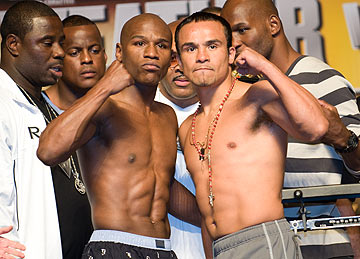 Marquez first hired Memo prior to his third fight with Manny Pacquiao. While Marquez was bigger in that fight than he was when he met Mayweather in 2009, he was nowhere near as big or defined as he is now. You'd have to be blind and naive to believe that Marquez — a man who used to drink his own urine before a fight — isn't onto something. If a guy is willing enough to drink his own urine, how easy would it be to go the extra mile to finally beat Pacquiao? After fighting Pacquiao three times without scoring a knockdown, all of a sudden Marquez now becomes a one-punch KO artist?
He finally got the coveted victory of Pacquiao, but in this case by what methods and at what cost? I am in no way accusing Marquez of taking something illegal, but many people not only myself are curious about what type of methods Marquez used to transform his body.
The rumors got started because of Marquez's hiring of a known steroids distributor and the subsequent dramatic transformation of his body.
Got an Opinion? Submit Your Articles and Press Releases to be posted on NowBoxing.com
*Please refrain from leaving any Racist, Profane or Derogatory comments*