WASHINGTON, D.C. (Sept. 26, 2013) – One of boxing's fastest rising prospects, undefeated welterweight Dusty Hernandez-Harrison from our Nation's Capital, Washington, D.C., will face the toughest test of his career when he takes on Josh "Pitbull" Torres for the WBC Youth Welterweight World Championship on Nov. 2 at Madison Square Garden Theater on the undercard of the Golovkin vs. Stevens Middleweight Championship clash Live on HBO.
Hernandez-Harrison (17-0, 10 KOs), ranked worldwide No. 40 by the WBC and 19 years of age, will be making the first of what he hopes will be many appearances at "The Mecca of Boxing," Madison Square Garden.
In his last three fights Hernandez-Harrison has shown the poise and skill of a fighter far beyond his years. On May 18, 2013 he stopped Eddie Soto in the fifth-round before 3,000 fans in his Washington, D.C. hometown. Dusty followed that bout up with a dominant six-round unanimous decision victory over rugged veteran Ben Ankrah at Foxwoods on June 28; and in his last bout on August 23 Hernandez-Harrison scored a fourth-round knockout of Guillermo Valdes, who was 12-4 going into the bout, at Dover Downs Casino.
"Fighting at Madison Square Garden is like a dream come true," Hernandez-Harrison said. "I have a lot of family in New York and it will be great to fight in front of them. Washington, D.C. is my home and I really appreciate that the DC fans are making the trip to New York to support me," Hernandez-Harrison added.
"Dusty is training like a World Champion," said Buddy Harrison, the fighter's father and trainer. "He understands that this guy is coming to win and take home the Green Belt, and we are preparing for a tough fight; No question about it."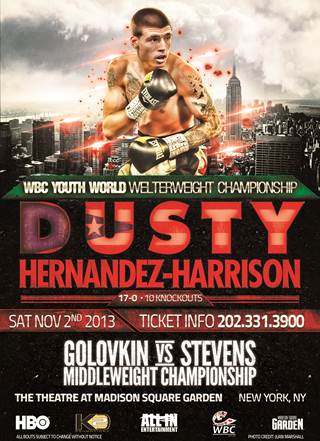 Torres (12-2, 5KOs) is riding a five-fight win streak and is considered the best welterweight in New Mexico, a state that has produced champions like Johnny Tapia, Danny Romero and, more recently, Austin Trout. The Albuquerque native is trained by Chris Chavez at the Team Tapia Boxing Academy and was formerly under the tutelage of the gym's namesake.
"I know he had an amazing amateur record, not sure what his record was, but the kid is skilled and it should be a great fight," Torres recently told GoFightlive.com lead boxing blow-by-blow announcer, Rich Quinones. "I'm blessed to be on this undercard, at MSG on HBO, really excited for this; it should be a great fight for fans."
Hernandez-Harrison's promoter, Jeff Fried of All-In Entertainment, has been grooming the young fighter for an opportunity like this since signing him late last year. Fried has kept the fighter busy with six bouts in nine months, with each bout a growth and learning experience for the developing Hernandez-Harrison.
"Dusty's continued hard work and poise in and out of the ring prepares him well for this championship opportunity," Fried said. "Dusty is honored to be fighting for the WBC Youth World Championship and has tremendous respect for Madison Square Garden's and the WBC's history and tradition within the sport of boxing."
"This is the type of fight I want," Hernandez-Harrison said. "I want to fight guys that are going to push me and bring out the best in me."
"I am honored to be fighting for a WBC Championship," Hernandez-Harrison said. "This is the kind of fight I have been preparing for my whole career and I won't let my fans down."