Gennady Golovkin is the most feared middleweight champion in boxing and he will put his title on the line against Curtis Stevens at the Madison Square Garden Theater in New York on HBO World Championship Boxing.
Eastern European boxers have been rising on the boxing scene, the current heavyweight division is dominated by Vitali and Wladimir Klitschko, but Gennady Golovkin is the boxer with the most crossover appeal. What makes him special is his ability to walk down his opponents and land combos without hesitating. He has the style that can capture a huge fanbase, like foreign born superstar Manny Pacquiao, Golovkin has a boyish smile and friendly demeanor but inside the ring he becomes a beast.
One man wants to derail the Gennady Golovkin hype train and that is Curtis Stevens, who will face him on Saturday night. Stevens has been calling Gennady out for a while and finally got his wish when he landed the fight and a chance at a world title. Stevens has the power in his hands to pull off the upset, but many analysts don't feel he will be able to capitalize on his punchers chance.
The first fight of the night will be two unbeaten heavyweights Mike Perez vs. Magomed Abdusalamov this is a classic boxer versus puncher match up, with Magomed being the puncher and Perez being the boxer. The winner of Perez vs. Abdusalamov will go up in the rankings and closer to a shot at a world heavyweight title.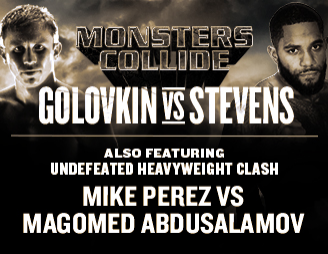 To watch Gennady Golovkin vs. Curtis Stevens, Mike Perez vs. Magomed Abdusalamov tune in to HBO on Saturday, November 2, 2013 at 10/7 PM ET/PT.