Newport Beach, Cailf.  – At 13-0 and the undefeated Bellator Heavyweight World Champion, Russian knockout connoisseur Vitaly Minakov is ready to extend his reign as "The New Emperor" and defend his world title against Cheick Kongo live on Spike TV Friday, April 4th from Nevada's Reno Events Center. The fight will headline Bellator 115.
The event will broadcast live starting at 9 p.m. EST/ 8 p.m. CT on Spike TV. The preliminary card will be streamed live and free exclusively on Spike.com starting at 6 p.m. CT. Tickets for the event are on sale now and can be purchased by visiting TicketMaster.com, Bellator.com and the Reno Events Center Box Office.
Only 28, Minakov took the MMA world by storm in 2013, winning the Bellator Heavyweight Tournament, then capturing gold with a devastating finish over former Bellator Champion Alexander Volkov. The four-time Sambo World Champion is currently riding a seven fight knockout streak, and will look to continue that trend on April 4th when he meets Cheick Kongo inside the Bellator cage.
"I am now the Bellator Heavyweight World Champion, and that isn't going to change," Minakov said. "It doesn't matter who is in my way, they are getting finished. Kongo has been around for a long time and is a great challenger, but the belt is staying with me. I'm not giving my belt to anybody. This is my belt."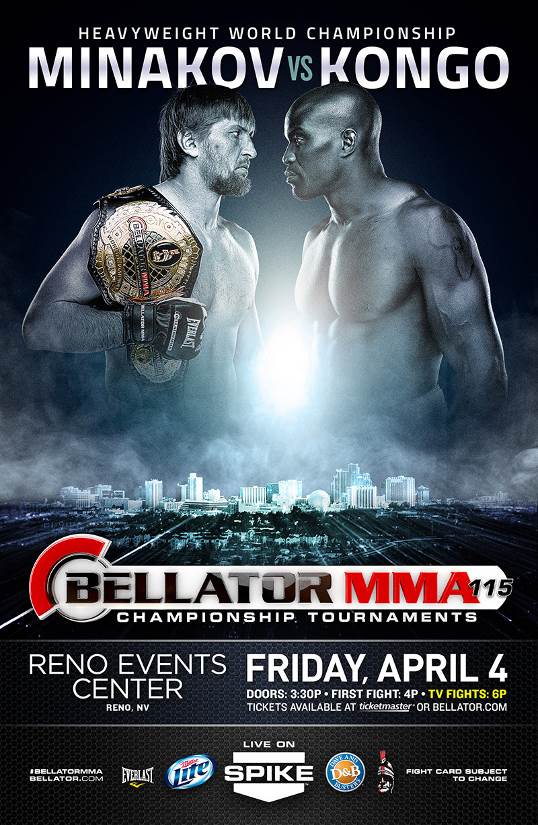 For Kongo, hype has never been something to faze the French born heavyweight. Over his impressive 13 year career, Kongo has fought, and defeated some of the biggest names in MMA and won't get caught up in records or pedigree. But as Kongo prepares for a battle tested Minakov, the thought of having a belt wrapped around his waist has certainly entered his mind.
"Being a Champion is something I've wanted for a while," Kongo said. "It's not about having it now, or fighting for right now. It's about when I'm old and retired from the sport, I can always look at that belt on my wall, and know that is why I put in all the hours and made the sacrifices I did. It means a lot to me, and it's something I want to collect on April 4th."
"For as long as this lasts, it will be awesome," said Bellator Chairman & CEO Bjorn Rebney "I've been a huge Minakov fan since the day we signed him and a huge Kongo fan for almost ten years. This is a title fight I've had circled on my calendar since Minakov won the belt in November. This will be an electrifying night on Spike and an explosive way for us to kick off our first event ever in Reno."