By Chuy Marco
I'm sick and tired of hearing comments about Canelo Alvarez supposedly ducking Gennady Golovkin. I have no issue with Golovkin, and his Mexican style gimmick, he's actually similar fighting wise to Julio Cesar Chavez Sr. so the Mexican style pitch kind of fits. My problem has to do with people praising Golovkin and slamming Canelo. It reminds me of the HBO hype surrounding Manny Pacquiao and the public is buying it the same.
The casual boxing fan has to be careful with this Triple G hype. At least with Manny Pacquiao he had fought actual competition who were legends before they hyped him up as the one to beat Floyd Mayweather. Golovkin has yet to fight anyone who is an actual threat or upper echelon.
If you look at the Ring magazine pound for pound list, they have Golovkin ranked number 3 with Canelo ranked number 7. How did Golovkin become a top 3 pound for pound boxer? Who has he fought?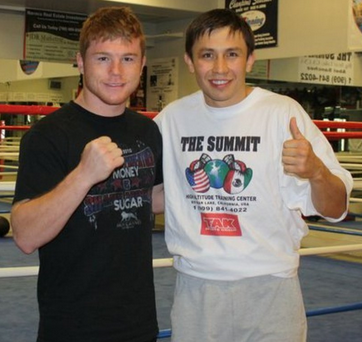 Before people started talking about Canelo vs. Golovkin, the two used to be friends and sparring partners. Canelo was much younger than Golovkin and gave him tough sparring and who knows maybe he got the better of GGG in some of those sessions. This seems like a fight that is being pushed on Golovkin by his trainer and promoter, they are forcing him to trash Canelo and ruin their relationship.
I like Golovkin as a fighter but he hasn't fought someone to warrant the accolades thrown on him by the media. Let us be honest, and this will hurt many of you Triple G fanboys, his resume is garbage.
Canelo at 25 years of age has fought more names and top caliber opponents than Golovkin has at 34 years old.
Lets look at their resumes:
Canelo has fought Carlos Baldomir, Lovemore Ndou, Alfonso Gomez, Kermit Cintron, Shane Mosley, Josesito Lopez, Austin Trout, Floyd Mayweather Jr, Alfredo Angulo, Erislandy Lara, James Kirkland, Miguel Cotto, and on May 7 he is facing a dangerously fast Amir Khan.
The only guy Golovkin fought who was decent was Kassim Ouma and Golovkin struggled in that fight against the much smaller fighter, and if you watch it, it could have easily been scored a draw. Is there anyone else worth naming from his resume?
Golovkin ducked Andre Ward, fought Dominic Wade an unproven fighter, and avoided Erislandy Lara, a guy who they said Canelo feared yet fought him and won.
Canelo will fight Golovkin, but it has to be on his terms, he is the cash cow now, and the disrespect from Golovkin and his team is not going to make the fight easy. Canelo's only request is for the fight to be at 155, Golovkin claims he is a small middleweight and was willing to fight the much smaller Mayweather at a catchweight but he won't do the same for Canelo. Mayweather and Pacquiao are retired, the new draw in boxing is Canelo and if Golovkin really wants that fight he should realize he is the B side in the fight.

Big time boxing fan. Grew up in East Los, and been an avid follower of the sport and the legends like Julio Cesar Chavez, Vicente Saldivar, Salvador Sanchez, Carlos Zarate, Erik Morales, Ricardo Lopez and Juan Manuel Marquez just to name a few.
Current favorite boxers: Canelo Alvarez, Mikey Garcia.