The Ultimate Fighting Championship comes to The Forum in Inglewood, California for UFC 199 Rockhold vs. Bisping 2, for the Middleweight championship belt, with a Bantamweight championship co-headliner of Dominick Cruz vs. Urijah Faber. The fight will be broadcast and available on YouTube live streaming video feed.
The original main event for UFC 199 was supposed to be a rematch between current 185 pound champion Luke Rockhold and former champion Chris Weidman, but due to a linger neck injury Weidman was forced to pull out of the event. Michael Bisping stepped in as a late replacement.
Bisping and Rockhold don't hold too kindly to each other, they fought previously in 2014 with Rockhold submitting Bisping with a Guillotine choke. The rematch will give Bisping a chance to redeem himself and finally achieve the goal of becoming a UFC champion.
The co-main event is a rubbermatch pairing two bitter rivals against each other. Dominick Cruz and Urijah Faber have beef dating all the way back to their WEC days beginning in 2007 when Faber submitted Cruz handing the champion his very first and only defeat. Since 2007, Cruz has yet to lose a fight, he avenged himself with a decision win over Faber at UFC 132 and now the two will have a chance to settle the score. Should Faber win he would finally hold the UFC belt after multiple failed attempts at the belt, if Cruz wins it will be a personally satisfying victory and another notch on his strap.
UFC 199: Rockhold vs. Bisping 2 Main PPV Card
Middleweight Championship Main Event: Luke Rockhold (Champ) vs Michael Bisping
Bantamweight Championship: Dominick Cruz (Champ) vs Urijah Faber
Featherweight: Max Holloway vs Ricardo Lamas
Middleweight: Dan Henderson vs Hector Lombard
Lightweight: Dustin Poirier vs Bobby Green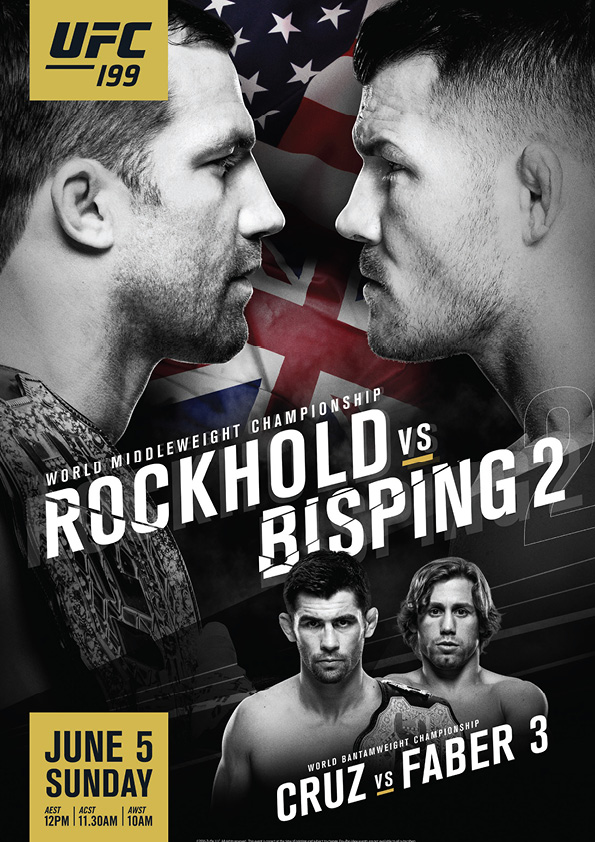 Watch UFC 199 Rockhold vs. Bisping 2 Pay-Per-View live on Jun 4, 2016 at 10/7 PM ET/PT on YouTube.com/UFC