On August 26th one of the greatest boxers of all time, Floyd Mayweather Jr will step into the ring with one of the best MMA fighters in the world, Conor McGregor in a fight that has mixed reactions from sporting fans all over the world.
This is Floyd Mayweather's first fight out of retirement since defeating Andre Berto in 2015 when he took his record to 49-0. However his opponent Conor McGregor will be making his boxing debut. Crazy!
In the world of MMA Conor has competed in 24 fights with a record of (21-3-0) winning 18 fights by KO. Even though he has lost 3 fights they have come by way of submission, something that he does not need to worry about in a boxing ring.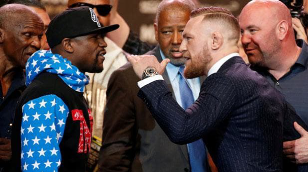 If Mayweather is successful in this fight he will take his record to 49-0 and will beat Rocky Marciano's 50-0 record. Many people do not believe that this is a fight worthy of breaking such a prestigious record, but at the end of the day this is a pro boxing bout. He is not fighting a nobody. He is fighting a mixed martial artist whose main weapon is his boxing.
Even though Mayweather is the favorite to win, I believe that Conor McGregor will knock out Floyd within 3 rounds. I think that Conor is too big and too strong for Floyd. McGregor will rough up Mayweather on the inside similar to what Marcos Maidana did when he fought Floyd the first time. I do believe that Mayweather is the superior boxer on paper however McGregor is very unorthodox and his style has never been seen in the world of boxing. It will be very difficult for Mayweather to prepare for an unknown like Conor. Many people will call my prediction deluded however I believe in McGregor and I believe in my prediction. August 26th Conor McGregor takes over boxing!