Boxing is doing very well with the recent much talked about super fights between unbeaten Floyd Mayweather Jr. versus UFC superstar Conor McGregor and the Middleweight championship bout between Canelo Alvarez and Gennady Golovkin.
The Pay-Per-View events were widely successful, with the Mayweather vs. McGregor event capturing various audiences from boxing, mixed martial arts and the casual fans and Canelo vs. Golovkin tapping into the hardcore boxing fan, the Mexican base and casuals.
The Mayweather-McGregor event in August was largely ridiculed by boxing purists as a spectacle and not worthy of being taken serious, even the Canelo-Golovkin promoter Oscar De La Hoya slammed the event begging people not to buy it, well the the people thought otherwise because the fight came close to breaking the previous record of 4.6 million set by Floyd Mayweather vs. Manny Pacquiao in 2015, it was reported by BoxingScene that the fight did around 4.4 million Pay-Per-View buys.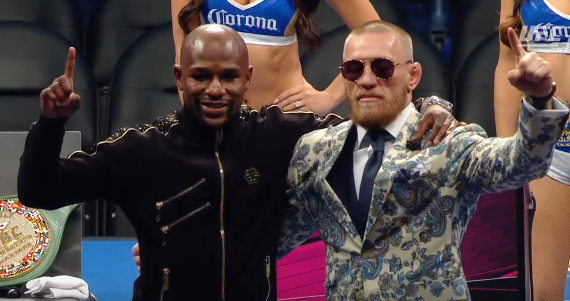 Mayweather vs. McGregor had a strong social media presence, and build up with lots of media coverage and trash talk between both combatants to sell. It was predicted even before the fight started to do huge numbers because of the interest and hype building up the fight, the two largest draws in Boxing and UFC meeting is an event that sparks curiosity and people dished out money in hopes of seeing the MMA guy pull of the greatest upset in his pro boxing debut.
Although the bout was not taken seriously and only a small percentage of pundits gave McGregor a shot, he was able to prove people wrong and take Mayweather to the 10th round before getting stopped proving he could hang with the All Time Great boxer.
The bout that followed weeks later in September was a more legitimate boxing match pitting Mexican super star Saul "Canelo" Alvarez against unbeaten Kazakh Middleweight Champion Gennady "GGG" Golovkin.
Canelo vs. GGG did a reported 1.3 million buys according to respected boxing reporter Lance Pugmire of the LA Times.
It was a great fight, that delivered action from beginning to end but was marred with controversy with the fight ending in a draw with one judge giving it 118-110 in favor of Canelo, when most viewers felt Golovkin won the fight because he was more active and imposing his will.
A rematch is likely to happen, and will likely do over 1 million Pay-Per-View buys.