There is a reason they call it professional boxing, because one must carry themselves in a certain manner in and out of the ring. Manny Pacquiao doesn't understand the meaning of professional or just doesn't seem to care.
Whenever Pacquiao attends a press conference for his upcoming fights, he just rudely does his own thing in an act of arrogance by showing up late or looking at his phone while people of importance are talking on the podium.
If Pacquiao was a true professional and not just presenting this fake image of a good Born-Again Christian politician, he would deal with his promoter and his team by contacting them and telling them what the deal is on his fight in Malaysia.
He hasn't contacted his promoter Bob Arum, he has ignored the phone calls by his long time trainer Freddie Roach and recently sent out a press release claiming he is fighting on June 24 in Malaysia against Lucas Matthysse and Golden Boy's Oscar De La Hoya is on board.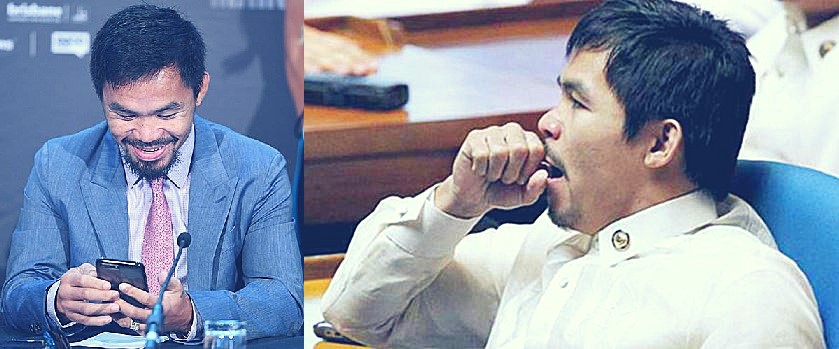 As an ambassador for the sport of boxing and his country he should also do research on the countries he visits so he has a grasp of who are the politicians and famous figures in that country. I've seen him embarrass himself by not knowing the names of the people who helped out with his charity events.
He has fallen asleep and caught on camera yawning during Senate hearings in the Philippines. The sad part is he only won as Senator because he had to give free food, and money away to the people to vote for him, and he continues to fight to fund his political agenda.
Another series of unprofessional behavior came during the lead up to his fight with Jeff Horn in Australia. During the pre-fight pressers Pacquiao was more focused on fiddling with his cell phone instead of respectfully listening to the people speaking. He had a pre-fight VIP luncheon where people paid a lot of money just to attend, he showed up hours late, and then gave a short 45 second speech and left, during which he had no clue who WBO heavyweight champion Joseph Parker was even though on his twitter account in 2016 he wished him luck before his fight with Carlos Takam, it's likely his PR team handles his social media.
I am surprised Bob Arum and Freddie Roach were able to put up with Pacquiao's behavior for so long. I guess when the money is coming in it makes it easier to deal with.
I just hope another Filipino boxing champion comes along who is a better ambassador for the Philippines, someone who acts professional and has charisma. People might think all Filipinos act like Manny Pacquiao, since he is considered our nations national treasure, but I assure you there are many Filipinos who do not act this way and really do carry themselves with class.