Manny Pacquiao vs. Lucas Matthysse is officially on! Both fighters made the 147 pound welterweight limit on Friday, for the WBA championship bout in Kuala Lumpur, Malaysia.
There was doubt looming in the air if the fight would be on, rumors swirling around that the financial investors didn't have the money and it would be canceled, but Oscar De La Hoya and Manny Pacquiao the two lead promoters of the fight assured fans it was indeed good to go.
The ceremonial weigh-in was filled with a mostly Filipino crowd and legendary announcer Michael Buffer was in attendance to announce the official weights.
After the undercard fighters weighed-in, the main event fighters went on stage and were cheered loudly by the crowd.
The challenger Pacquiao stepped on the scale at a lean 146 pounds, while the Argentinean champion came in a shade higher at 146.7 pounds.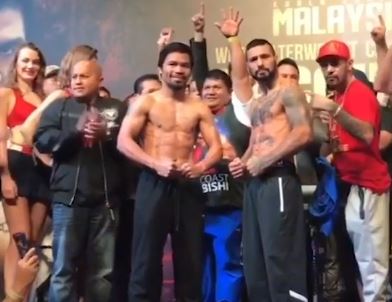 This match-up puts two power punchers with exciting all action styles against each other, Oscar De La Hoya the promoter of Matthysse believes the fight will not go the distance because of the way both of them fight.
He advised his charge to push forward on Pacquiao and make it a rough fight to use his power to his advantage over the elder Filipino ring legend.
Matthysse is motivated heading into the fight, a win over Manny Pacquiao an 8-division world champion and guaranteed future hall of fame inductee will help cement his legacy especially among the great boxers from Argentina such as Carlos Monzon, Sergio Martinez and Marcos Maidana.
For Pacquiao this will be another chance to become a world champion since losing his WBO belt in Australia to Jeff Horn last summer.
Pacquiao vs. Matthysse is for the WBA welterweight belt, and will take place at the Axiata Arena, Kuala Lumpur on Saturday July 14 in the USA and Sunday July 15 in Malaysia, and will be live streamed on the ESPN + App.