The fight is here and the bad blood between Mexican boxing star Saul "Canelo" Alvarez and undefeated WBA/WBC Middleweight champion Gennady "GGG" Golovkin will be settled in a rematch at the T-Mobile arena in Las Vegas, live online.
Canelo Alvarez (49-1-2, 34 KOs) felt he did enough to defeat GGG when they first met in the ring in 2017, the fight had a mixed result ending in a Draw, one judge scored it for Canelo the other for GGG and the third had a it draw.
Since the fight more controversy brewed when Canelo failed two drug tests in training camp for the rematch originally scheduled for May, he said it was some bad meat he bought in Mexico that was tainted with the banned substance Clenbuterol.
The NSAC suspended him and after he served his time, he was allowed to fight Golovkin in a rematch for September 15.
Gennady Golovkin (38-0-1, 34 KOs) is 36 years old and the long reigning middleweight champion of the division, he felt the pressure he used was enough to beat the running Canelo. His trainer Abel Sanchez called GGG the real Mexican style fighter and said Canelo ran the entire fight.
Tonight the two can finally settle the score in the boxing ring to see who will come out victorious and neither want to leave it in the hands of the judges.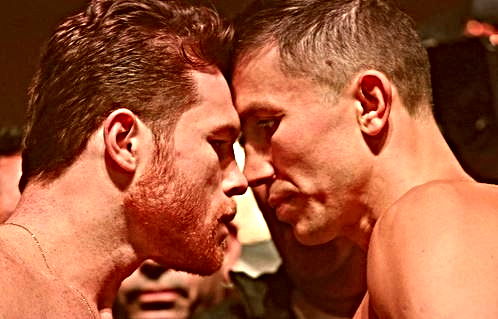 The Official Fight Card
Gennady Golovkin (Champ) vs. Canelo Alvarez (WBA/WBC middleweight championship)
Jaime Munguia (Champ) vs. Brandon Cook (WBO junior middleweight title)
David Lemieux vs. Gary "Spike" O'Sullivan (Middleweight)
Roman "Chocolatito" Gonzalez vs. Moises Fuentes (Super Flyweight)
The Canelo vs. Golovkin 2 event is promoted by Golden Boy and GGG Promotions, the sponsors are Fred Loyal Insurance, Tecate, Hennessy, Tsesnabank and Capital Holdings.
The broadcast will air live on Saturday, September 15, 2018 on HBO Pay-Per-View beginning at 8:00 p.m. ET/5:00 p.m. PT and online for purchase.
The official online Canelo vs. GGG2 PPV stream info is at caneloggg.com