Tonight is the night we finally get a heavyweight championship bout in the USA of any meaning.
Two undefeated champions, one is the WBC heavyweight champion straight from Alabama, Deontay Wilder, and the other from overseas a traveler named Tyson Fury.
If you got by their monikers Wilder is called the Bronze Bomber, named appropriately because he won the Bronze in the Olympic games and his punches are like bombs, having stopped every man he has ever faced in the professional boxing ring.
Tyson Fury is called the Gypsy King, a tribute to his traveler heritage, he carries that name with pride and represents a long line of gypsy fighters.
I hope the Wilder vs. Fury fight does well on Pay-Per-View because the heavyweight division is longing for a big name star.
Wilder isn't well known in America and at one point in time the heavyweight champion especially an American was one of the most well known sports figures, from Jack Dempsey, Muhammad Ali, Mike Tyson, you name it they were well known.
What is fascinating is Wilder is not only the champion but he is also a knockout artist with an undefeated record, and delivers exciting fights so you would naturally believe that he would be an instant star in America.
Casual fans love the knockout, and this probably comes down to lack of exposure and promotion on his handlers part. If he were pushed aggressively into the mainstream early on and given more exposure I'm pretty sure he would have amassed a larger fanbase in the States.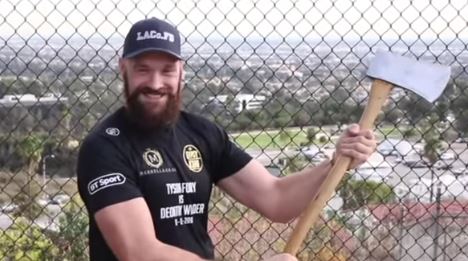 His opponent the challenger and former world champion and current lineal heavyweight champion, Tyson Fury, has a very enigmatic personality, full of wit and wisdom he has overcome so much and is ready to try and pull the upset off tonight.
I've always been fascinated by Fury. His ability to move so fluidly for a man who stands 6 foot 9 and weighs over 250 pounds. Most guys his size rely on power and their physicality to rough you up, not Fury he prefers to outbox and make his opponent miss.
His father John named him after the most ferocious heavyweight of the 80s Iron Mike Tyson. Despite carrying the name of the devastating knockout artist, Fury fights more like Muhammad Ali or Sugar Ray Leonard, he likes to stick and movie and throw shoe shine flurries.
Tonight I believe with Freddie Roach in his corner, Tyson Fury will channel a more aggressive side. I seen training footage of him focusing more on sitting down on his shots after a flurry, to shock Wilder.
Some people are worried about the long layoff Fury had, the critics are saying he spent most of his time trying to lose weight for his two comeback fights rather than getting into fighting conditioning.
He suffered a serious bout of depression where he went up as high as 400 pounds. He shook those demons off and now found the love to box again, and a focused Fury is a dangerous one.
I feel Fury will rise to the occasion, he is a heavy underdog with only a few boxing pundits picking him to win. What Fury does best is defy the odds, just like he did when he became the lineal champion dethroning the long reigning king Wladimir Klitschko in his own backyard.
My prediction for this fight is Fury weathering the storm, taunting Wilder, making him miss and chopping him down like a tree, jab and move, followed by power shots.
I see him finishing Wilder off somewhere down the stretch. I say this because that Luis Ortiz fight could have taken something out of Wilder, he was hit very hard and out on his feet, those grueling tough fights take something out of you. When you take a beating like that even if you comeback to win you either become more gun-shy in your next fight and can't pull the trigger anymore or your ability to take a punch has hindered and you become easier to wobble.
I like both fighters, if Wilder wins that is awesome as well because America needs a heavyweight superstar they can get behind, but I have to go with Fury, he just seems so alive and has that fire burning to fight again.

I am an avid fan of boxing and video games. My first fight of memory was watching Prince Naseem Hamed destroy Kevin Kelly. I enjoy all aspects of the sport. My favorite current boxer is Manny "Pacman" Pacquiao. My favorite boxing match is Diego Corrales vs. Jose Luis Castillo 1. I love watching boxing on Pay-Per-View more than being there live because you can really enjoy and watch the action from the best view.