Fight fans can watch two free Bareknuckle fights on Friday and Saturday night Gamebred FC 3 and BKFC Thailand, if they download the and subscribe to the FREE BKTV App.
On Friday, December 17th, Jorge "Gamebred" Masvidal's Gamebred Fighting Championship event heads to Biloxi, Mississippi for their third bare knuckle Mixed Martial Arts Event.
Masvidal's fighting event is unique because its basically MMA but with bare knuckle, just using the similar wrist protection that the BKFC uses making the event closer to the old school UFC and No Holds Barred style fighting from the 90s.
It also makes the fighters be more calculated and accurate when throwing their shots to avoid breaks since they are not protected in the knuckle area.
The advantage would favor the grappler since they don't have to worry about gloves loosening up their grips.
The card will be headlined by a heavyweight scrap between Tony Lopez and Alex Nicholson.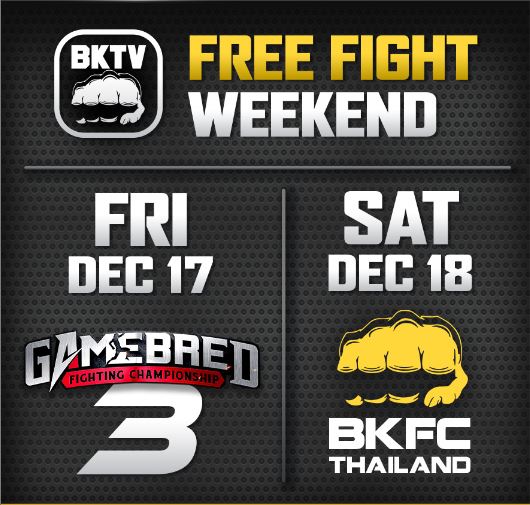 UFC Veterans Anthony Njokuani and Micheal McDonald will be the co-main event in a catchweight fight.
Gamebred FC 3 Fight Card
Tony Lopez vs. Alex Nicholson
Anthony Njokuani vs. Michael McDonald
Buddy Boissiere vs. Dustin Clements
James Freeman vs. Cody Herbert
Javanis Ross vs. RJ Summerlin
Jessica Link vs. Monica Medina
Darion Abbey vs. Justin Faaiu
Hamdy Abdelwahab vs. Connor McKenna
Mansher Khera vs. Daniel Gary
On Saturday night, December 18, 2021 the Bare Knuckle Fighting Championship heads to Thailand the Asian country best known for the Muay Thai kickboxing sport.
BKFC Thailand 1 "The Game Changer" is brought to you by CEO Nick Chapman who is well established in the Thailand combative sports scene.
The main event will be a rematch between Tee Jay Chang of Great Britain and Brazilian Fabiano Hawthrone.
The co-main event features former boxing champion Sirimongkhon Lamthun of Thailand taking on Iranian bare knuckle fighter Reza "Persian Leopard" Goodary.
The card will be filled with many other exciting match-ups from top to bottom.
Gamebred FC 3 takes place on Friday December 17, 2021 at 5:00 PM PT
BKFC Thailand 1 takes place on Saturday, December 18, 2021 at 5:00 PM PT
The fights are available as part of the BKFC FREE Fight Weekend where fans can watch the live streams free of charge if they download the BKFC APP.