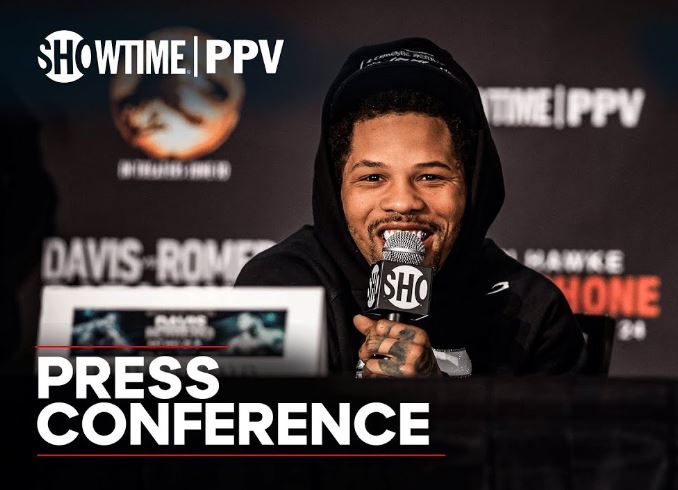 Undefeated WBA lightweight champion Gervonta "Tank" Davis will take on fellow undefeated southpaw and challenger Hector Luis Garcia in a SHOWTIME Pay-Per-View on January 7th.
Before the two boxers square up they will be part of the final fight week press conference on Thursday before they weigh in on Friday and then face off in the ring on Saturday night.
Davis who is widely regarded as one of the most complete boxers in the sport with a mix of offense and defense that helps him adapt to multiple styles will take on a fellow southpaw in Garcia. He comes from Baltimore, Maryland and will be extra motivated to fight and win in front of a packed crowd of hometown fans.
Garcia who comes from the Dominican Republic is confident that he will be able to defeat the undefeated three division world champion and become a huge star in the making, but all of the talk could also motivate Davis to really shut Garcia's mouth and put on a show in D.C.
Davis most take Garcia seriously because he already has a major superfight lined up for April against Ryan Garcia. If he loses it could jeopardize the biggest payday of his career so that is why he needs to be careful.
They will address the media one last time on Thursday during the final press conference and their teams will also have their say. Watch the live stream to see if they will trash talk or keep it professional and all about business.
Gervonta "Tank" Davis vs. Hector Luis Garcia will take place at the Capital One Arena in Washington, D.C. on January 7, 2023 on SHOWTIME Pay-Per-View.
The Press Conference live stream begin at 1:00 PM PT / 10:00 AM PT on Thursday, January 5, 2023 on SHOWTIME Sports YouTube Page (Video Below).
Gervonta 'Tank' Davis vs. Hector Luis Garcia: Press Conference Live Stream Video

Video upload by SHOWTIME Sports