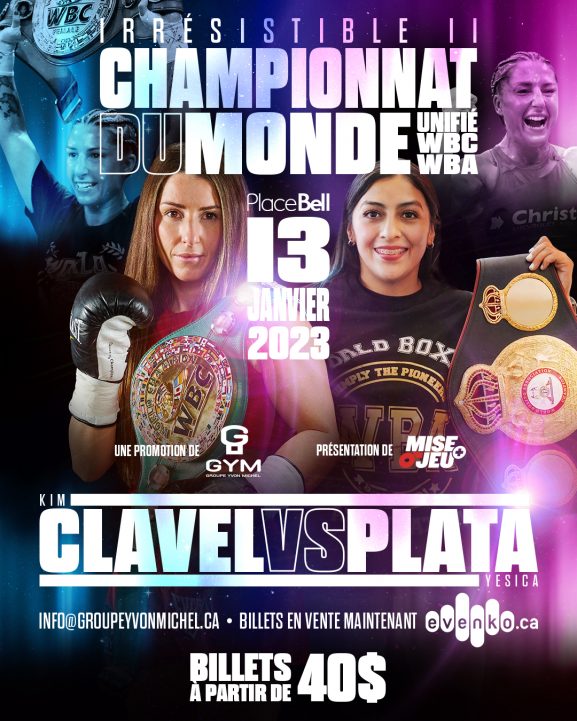 Top Rank Boxing on ESPN kicks off the new year with a weekend of exhilarating LIVE boxing matches.
Top Rank Presents a Weekend of High-Octane Boxing
(ESPN Press Room) – Friday, January 13, from Place Bell in Laval, Canada and LIVE on ESPN+ at 7:00 p.m. ET/ 4:00 p.m. PT, WBC light flyweight champion Kim Clavel (16-0, 3 KOs) will battle WBA queen Jessica Nery Plata (28-2, 3 KOs). Clavel, who won the Pat Tillman Award for Service at the 2020 ESPY Awards after putting her boxing career on hold to return to nursing during the start of the COVID-19 pandemic, hopes to become the sport's only Canadian-born unified world champion.
On Saturday, January 14, Top Rank Boxing on ESPN presented by AutoZone: Ajagba vs. Shaw will be live at 10:00 p.m. ET/ 7:00 p.m. PT on ESPN, ESPN Deportes, and ESPN+. The event takes place at Turning Stone Resort Casino, Verona, NY.
In the main event, one of the division's biggest punchers, Efe Ajagba (16-1, 13 KOs), takes on St. Louis native Stephan "Big Shot" Shaw (18-0, 13 KOs).
In the heavyweight co-feature, Guido "The Gladiator" Vianello (10-0-1, 9 KOs), a 2016 Italian Olympian from Rome, faces the formidable Jonnie Rice (15-6-1, 10 KOs).
The undercard (5:00 p.m. ET) features a junior lightweight tilt between Adam "BluNose" Lopez and Abraham "El Super" Nova. Additionally, featherweight phenom, Bruce Carrington (5-0, 3 KOs), the 2020 U.S. Olympic Trials champion, will fight Juan Antonio Lopez (17-12-1, 7 KOs), an 11-year pro from Dallas, Texas, in a six-round showdown.
ESPN's Joe Tessitore will call the action with Hall of Famer Andre Ward and future Hall of Famer Timothy Bradley as analysts; Mark Kriegel and Bernardo Osuna will serve as reporters.
Follow @ESPNRingside: Facebook Instagram Twitter TikTok
Friday, January 13, 2023 ESPN Fight Card
Kim Clavel (Champion*) vs. Jessica Nery Plata (Champion **)
Mazlum Akdeniz vs. Cristian Bielma
Marie Pier Houle vs. Marisol Moreno
Eric Basran vs. Juan Carlos Ramirez Garcia
Caroline Veyre vs. Estefania Gonzalez Franco
Saturday, January 14, 2023 ESPN Fight Card
Efe Ajagba vs. Stephen Shaw
Guido Vianello vs. Jonnie Rice
ESPN+ Prelims at 5:00 PM ET/PT
Abraham Nova vs. Adam Lopez
Haven Brady Jr. vs. Ruben Cervera
Bryce Mills vs. Margarito Hernandez
Edwin Rodriguez vs. Floyd Diaz
Brian Norman Jr. vs. Rodrigo Damian Coria
Bruce Carrington vs. Juan Antonio Lopez
Emmanueal Austin vs. Dante Benjamin Jr.
Rohan Polanco vs. Julian Smith
Light Flyweight Title Unification Showdown:
Kim Clavel vs. Jessica Nery Plata
Friday, January 13, 2023 at 7:00 p.m. ET/ 4:00 p.m. PT LIVE on ESPN+
Heavyweight Double Header:
Efe Ajagba vs. Stephan Shaw in Main Event. Guido Vianello vs. Jonnie Rice in Co-Feature
Saturday, January 14, 2023 at 10:00 p.m. ET/ 7:00 p.m. PT LIVE on ESPN, ESPN Deportes, and ESPN+
ESPN+ Available on ESPN.com and ESPN App for Mobile and Connected TV Devices
To Subscribe Visit ESPNPlus.com/TopRank