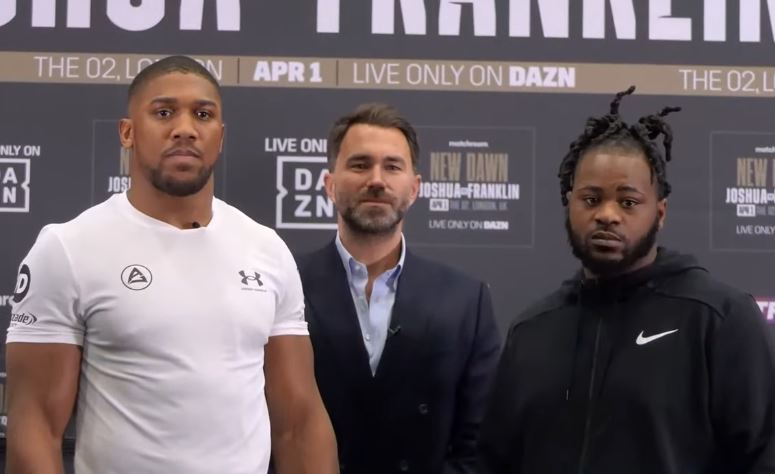 Boxing fans know that it is a sport with lots to offer and plenty to stay entertained with. While catching the best fights is cool, keeping up with all the latest boxing news is a lot of fun. It also means you know what is happening with the biggest names in the sport and are in the loop about the most anticipated bouts coming up.
One story that has caused real waves in boxing recently is the confirmation of Anthony Joshua's fight against US heavyweight Jermaine Franklin. This is now set to take place at the O2 Arena in London on April 1, 2023. But what is the background to this fight and who is being tipped to come out on top?
Joshua vs Franklin: who will win?
Before any major clash like this, fans will start to think about who could emerge victorious. This is not only interesting but also advisable if you plan to bet on this matchup.
By digging into who might stand the best chance of winning, you will be betting from a more informed position. If you are planning to take a punt on this bout, remember to find the top sportsbooks online to use with the most awesome bonus offers. Click here for some of the very best around.
But which fighter is fancied to clinch victory? It could actually be something of a close-run affair, with both athletes coming into it with a lot of motivation to win. Joshua will be desperate for a positive return to the ring and keen to show people he still has what it takes to compete at the top of the sport.
Franklin will also be eager to come back from his controversial loss against Dillian Whyte in November 2022, a fight in which he was furious to lose on a points decision. Many will feel that Joshua has that extra bit of class and home advantage to rely on, which could well see him win.
Redemption time for Joshua
While news such as emerging boxer Alyssa Mendoza's Olympic bid is always exciting to catch up on, finding out about what the most well-known boxers are up to is also entertaining. But what else is there to know about this latest bout for Joshua?
There is no doubt he will be pumped up for it because he knows it's a real chance at redemption for him in sporting terms. Victory here could well see him make progress in moving back towards the top of the division. Successive defeats to Oleksandr Usyk were devastating for AJ and a loss here would be very damaging for his career.
Although he clearly has the talent, power, and boxing skills to gain a win over Franklin, you do wonder how sharp he will be coming into this one. Joshua, after all, has not fought since losing to Usyk again in August 2022.
Franklin should not be written off
We all know that anything can happen in the heavyweight division – and one punch can change a fight. It is therefore important not to downplay US fighter Franklin's chances too much. Before the loss to Whyte, he was unbeaten and currently holds a 21-1-0 record. He is also known as a big hitter and has dispatched a fair few opponents via knockout.
There is no doubt that he has the punching power to make Joshua nervous. Franklin has also spent time training in Tyson Fury's Morecambe gym previously and Fury may well have passed on some tips about how he thinks Joshua can be beaten. It has to be said, though, that the opponent who Franklin lost to last time out is someone Joshua has beaten in the past. This could be the signal that AJ has a slight edge over him.
What happened to Joshua vs Fury?
Talking of Tyson Fury, many boxing fans may be surprised to see Joshua taking on Franklin in his next match. It was, after all, no secret that he had been talking with Fury about a blockbuster bout of their own as his next fight.
It appears that this was on the cards for December 2022 but negotiations ultimately broke down between the two camps. This was thought to be over how long Joshua was taking to sign the contract for the fight, which led Fury to pull out. If AJ makes it past Franklin, though, expect to see talk of this bout picking up pace again.
Joshua vs Franklin will light up April 2023
While a matchup against Fury or IBF Intercontinental champion Demsey McKean never came to fruition, we do know that Anthony Joshua will be taking on Jermaine Franklin for his next bout in April 2023. This looks set to be a cracking affair and a fight both boxers will be very eager to win.