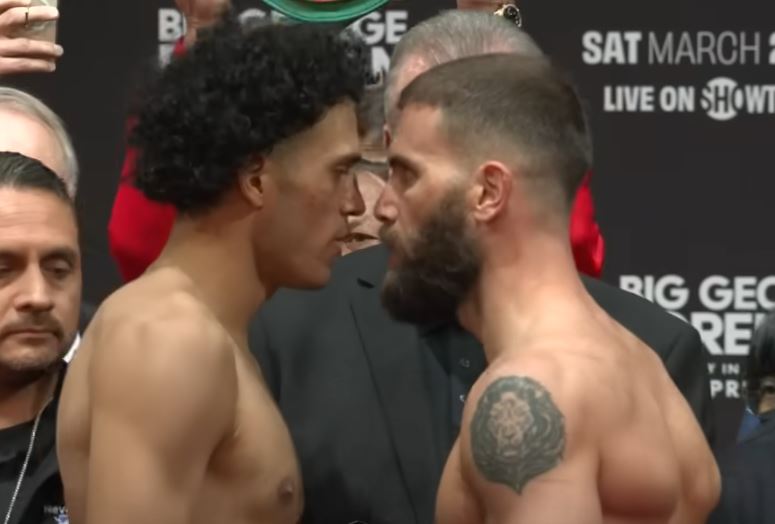 Before undefeated two-time WBC Super Middleweight Champion David "Mexican Monster" Benavidez and former IBF Super Middleweight Champion Caleb Plant square off in the ring, fight fans can watch a FREE preliminary card and SHOWTIME countdown show live on YouTube.
The preliminary show will feature several fights with up and coming rising stars in the boxing world.
David Benavidez (26-0, 23 KOs) was given the moniker "Mexican Monster" by hall of fame boxing legend "Iron" Mike Tyson and the name has stuck and motivated the young undefeated super middleweight to continue his aggressive seek and destroy style of fighting.
Benavidez who lists Mike Tyson and Manny Pacquiao as his favorite boxers growing up because of their aggressive fan friendly style, tries to bring his own offensive style to the table and loves putting on a show for the fans.
Caleb Plant (22-1, 13 KOs) who only has one loss and that in a competitive fight with Mexican super star Canelo Alvarez. Plant held his own and boxed on the backfoot only to get knocked out late by Canelo. Plant has learned from that big stage experience and is ready for whatever Benavidez brings on Saturday.
Showtime PPV Main Card
Super Middleweight – David Benavidez vs. Caleb Plant
Super Welterweight – Jesus Alejandro Ramos vs. Joey Spencer
Lightweight – Chris Colbert vs. Jose Valenzuela
Welterweight – Cody Crowley vs. Abel Ramos
Undercard
Super Bantamweight – Kevin Gonzalez vs. Jose Sanmartin
Super Lightweight – Orestes Velazquez vs. Marcelino Nicolas Lopez
YouTube Prelim Card
Super Featherweight – Demler Zamora vs. Jesus Abel Ibarra
Super Middleweight – Daniel Blancas vs. Nicholas Molina
Super Featherweight – Robert Meriwether III vs. Jesus Ramon Perez
The David Benavidez vs. Caleb Plant: Prelims SHOWTIME PPV COUNTDOWN Show Live Stream on YouTube starts at 7:00 PM ET / 4:00 PM PT on March 25, 2023.
After the free preliminary countdown show, you can watch the main card on SHOWTIME PPV for $74.99 for more information visit: https://www.sho.com/sports/fights/5848/benavidez-vs-plant