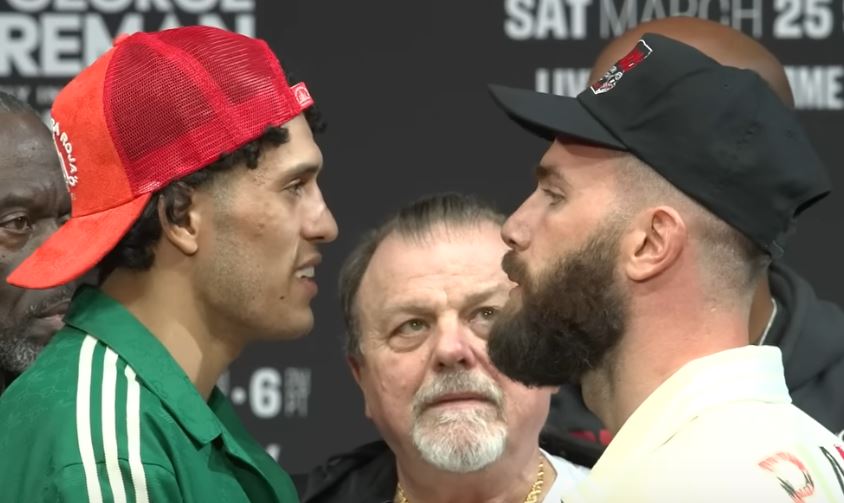 Watch the David Benavidez vs. Caleb Plant Free live stream preliminary countdown show on YouTube before the SHOWTIME PPV event on Saturday night.
The 'Mexican Monster' David Benavidez (26-0, 23 KOs) and Caleb Plant (22-1, 13 KOs) are ready to trade blows in the ring after several years of bad blood.
Both of these former world champions have been talking trash to each other for years, and now the time has finally come for them to settle their beef in the ring.
Benavidez is undefeated and one of the most exciting fighters in the sport with his highly offensive style he strings together punches like a smaller fighter with his dazzling handspeed.
Plant is one of the best boxers in his division, he utilize movement and times his opponents as they come in as evidenced by his vicious knockout of Anthony Dirrell.
Also on the card is a battle of undefeated 154 pound contenders, Jesus Alejandro Ramos (19-0, 15 KOs) and Joey Spencer (16-0, 10 KOs). This is a rare moment in boxing when to young rising stars are willing to go heads up putting their undefeated records on the line before they even right for a world title.
Lightweights Chris Colbert and Jose "Rayo" Valenzuela will duke it out in a boxer versus puncher match up. Colbert and Valenzuela are looking to get back in the win column on Saturday night.
Fight Card
Super Middleweight – David Benavidez vs. Caleb Plant
Super Welterweight – Jesus Alejandro Ramos vs. Joey Spencer
Lightweight – Chris Colbert vs. Jose Valenzuela
Welterweight – Cody Crowley vs. Abel Ramos
Super Bantamweight – Kevin Gonzalez vs. Jose Sanmartin
Super Lightweight – Orestes Velazquez vs. Marcelino Nicolas Lopez
YouTube Free Prelim Card
Super Featherweight – Demler Zamora vs. Jesus Abel Ibarra
Super Middleweight – Daniel Blancas vs. Nicholas Molina
Super Featherweight – Robert Meriwether III vs. Jesus Ramon Perez
The Free Prelim Countdown Show starts at 7:00 PM ET / 4:00 PM PT on Saturday, March 25, 2023 on SHOWTIME Sports YouTube Page.