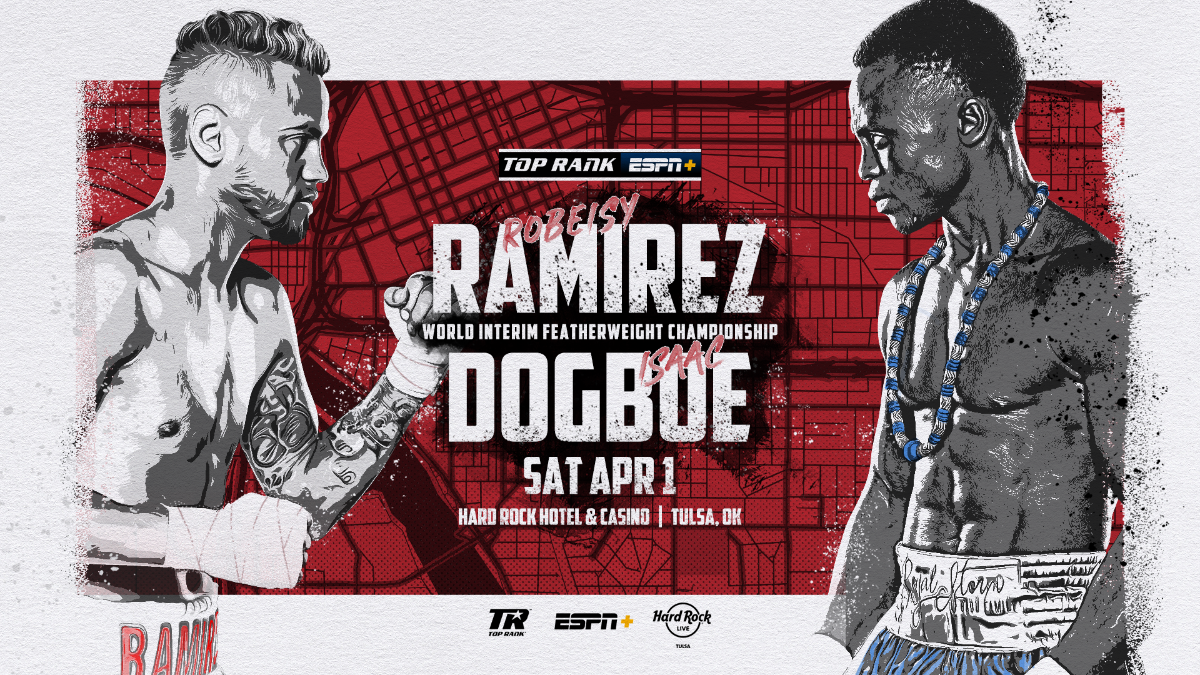 Original Program: Blood, Sweat & Tears: Ramirez vs. Dogboe Debuts Sunday, March 26, on ESPN2 at 3 p.m. ET
(ESPN Press) – Go Behind the Scenes with Robeisy "El Tren" Ramirez and Isaac "Royal Storm" Dogboe prior to their featherweight title showdown on April 1
Ahead of the April 1 featherweight title match at Hard Rock Hotel & Casino Tulsa in Tulsa, OK, ESPN will air the original program, Blood, Sweat & Tears: Ramírez vs. Dogboe.
Fans will be treated to a 30-minute all-access preview that will feature both training camps ahead of the battle for the vacant WBO featherweight world championship between 29-year-old Cuban sensation Robeisy "El Tren" Ramírez (11-1, 7 KOs) and the 28-year-old Ghanaian former world champion Isaac "Royal Storm" Dogboe (24-2, 16 KOs).
Ramírez enters the title bout having won 11 straight, including a successful return victory over Adán Gonzáles who stunned Ramírez via split decision in his pro debut. Now the highly decorated amateur prodigy and two-time Olympic Gold Medalist steps up to the plate in his first-ever world title opportunity.
The fighting pride of Africa, Dogboe was born in Ghana and now resides in London, England as he looks to become a two-division world champion. Dogboe previously held the WBO junior featherweight world title, including one successful title defense before going nearly 24-straight rounds in back-to-back wars against Emanuel Navarrete, the three-division kingpin. Since then, "Royal Storm" has bounced back with four-straight victories to setup his next world title opportunity.
In addition to the air times below, Blood, Sweat & Tears: Ramírez vs. Dogboe will also be available for replay on-demand in the ESPN App and on ESPN.com and ESPN+.
Blood, Sweat & Tears: Ramírez vs. Dogboe premieres on Sunday, March 26, 2023 on ESPN2 at 3 p.m. ET/PT, ESPNEWS and ESPN Deportes at 7 p.m. ET/PT.
ESPN+ Available on ESPN.com and ESPN App for Mobile and Connected TV Devices
To Subscribe Visit ESPNPlus.com/TopRank