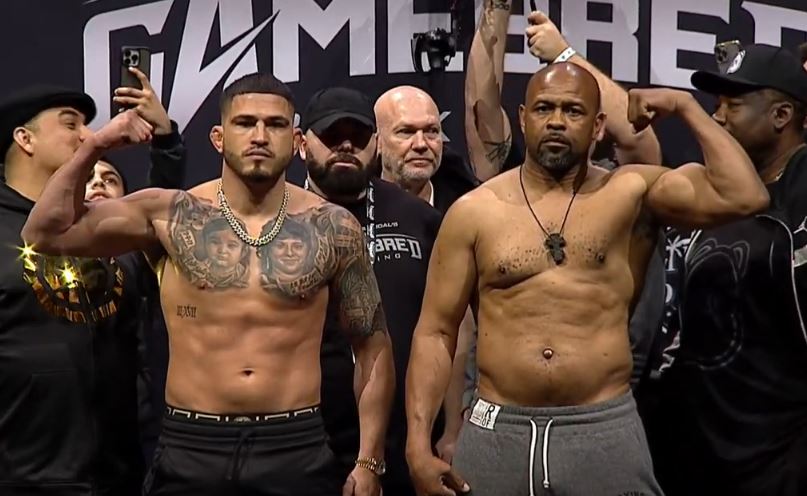 Anthony Pettis (left) and Roy Jones Jr. make weightUFC star Jorge Masvidal is putting on a boxing card on April Fools Day that will have fight fans intrigued with former UFC and MMA stars going at it in a professional boxing ring.
The Gamebred Boxing 4 fight card is headlined by Roy Jones Jr. vs Anthony Petts and the co-main is Jose Aldo vs Jeremy Stephens and takes place at the Fiserv Forum in Milwaukee, Wisconsin.
Nobody would think 54-year-old boxing legend Roy Jones Jr. would still be fighting at his age but the former pound for pound king is eager to mix it up with the younger hungry lion Anthony Pettis.
Jones Jr. doesn't have to fight but he still has the itch ever since he put on an impressive showing in an exhibition bout with Mike Tyson.
Anthony Pettis who is coming off a losing streak in the PFL, has never fought a pro boxing bout, on Saturday night he will make his boxing debut against one of the greatest of all time in Roy Jones Jr.
This will be a big moment for Pettis since he grew up watching the boxing legend so having the chance to step in the ring with him and test his skills is an honor for the Milwaukee native.
The co-main event features former UFC featherweight champion Jose Aldo taking on former UFC featherweight contender Jeremy Stephens in a welterweight boxing bout at 147 pounds.
A featured fight between UFC legend Vitor Belfort and MMA veteran Ronaldo "Jacare" Souza will also be part of the boxing card.
Gamebred Boxing 4 Fight Card
Cruiserweight – Roy Jones Jr vs Anthony Pettis
Cruiserweight – Vitor Belfort vs. Ronaldo "Jacare" Souza
Welterweight – Jose Aldo vs. Jeremy Stephens
Women's Featherweight – Pearl Gonzalez vs. Gina Mazany
Super Lightweight – Luis Feliciano vs. Clarence Booth
Super Featherweight – Devin Cushing vs. Damian David Marchiano
Heavyweight – Dillon Cleckler vs. Josh Burns
Cruiserweight – Joe "Diesel" Riggs vs. Markus Perez
Super Featherweight – Javier Zamarron vs. Roberto Armas
Welterweight – Cade Howell vs. Devante Sewell
Bantamweight – Bi Nguyen vs. Andy Nguyen
Women's Lightweight – Danielle Wynn vs. Danielle Cohen
The Gamebred Boxing 4 fight prelims at 7:00 PM ET / 4:00 PM PT and the main card at 9:00 PM ET / 6:00 PM PT on Saturday, April 1, 2023.
Broadcasts will be available for purchase and live streamed on UFC Fight Pass and PPV.com. For more information visit: https://ufcfightpass.com/ and PPV.com at: https://www.ppv.com/events/gamebred-boxing-4