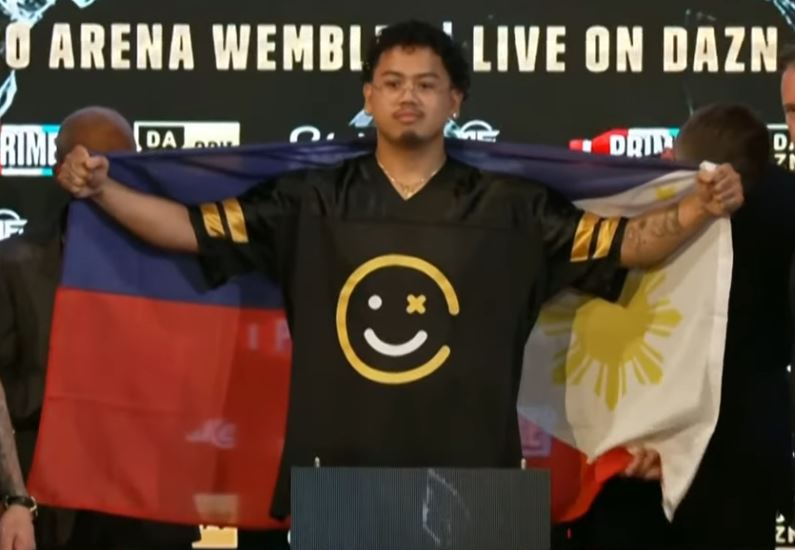 Popular Filipino social media star turned boxer Salt Papi returns to action against Mixed Martial Arts veteran and social media boxing star Anthony Taylor on the Misfits & DAZN X Series 007: KSI vs. Joe Fournier on May 13.
Salt Papi become an internet sensation from posting videos on Tik Tok and then reach another level when he started participating in social media boxing events. He doesn't look like he can fight and is not intimidating with an unimpressive physique but in the ring he delivered blows with the speed and power of a seasoned boxer.
Tonight he will take on his toughest test against the popular fan favorite Anthony "Pretty Boy" Taylor who is a legit professional fighter having competed in MMA and boxing long before participating in crossover boxing events against social media stars.
Taylor and Papi are friends outside of the ring and promise to go for the KO and put on a show inside the ring. The two have three rounds to try to take each others heads off in a crusierweight exhibition.
The main event features one of the founders of Misfits Boxing KSI taking on millionaire businessman Joe Fournier. KSI wants to knockout Fournier in hopes of landing a much bigger fight with Jake Paul who also fights under the DAZN streaming service, but Salt Papi has also thrown his name in the mix as a future opponent.
MF & DAZN X Series 007 Card
Cruiserweight – KSI vs. Joe Fournier
Light Heavyweight – Deji Olatunji vs. Swarmz
Cruiserweight – Salt Papi vs. Anthony Taylor
Cruiserweight – ViruZz vs. DK Money
Women's Super Bantamweight – Tennessee Thresh vs. Paigey Cakey
Women's Super Bantamweight – Little Bellsy vs. Lil Kymchii
Happy Punch Prelims
Heavyweight – WingsOfRedemption vs. Boogie2988
Super Lightweight – Corn vs. Unbaer
Heavyweight – Luis Nestor vs. Archie King
Light heavyweight – Zuckles vs. Mystery Opponent
Watch Misfits & DAZN X Series 007: KSI vs. Joe Fournier on Saturday, May 13, 2023 at 2:00 PM ET / 11:00 AM PT, Live Stream on DAZN. For more information visit: www.misfitsboxing.com