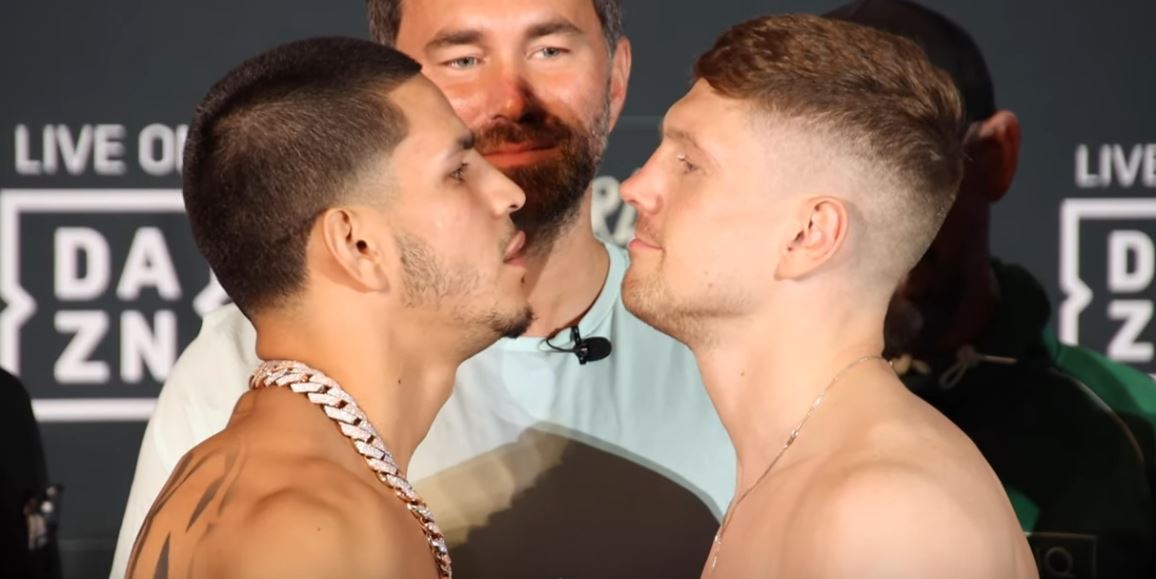 Watch the Edgar Berlanga vs Jason Quigley Free Fight Prelims Before The Bell Live Stream before the main DAZN fight card on Saturday, June 24th.
Berlanga vs. Quigley takes place at The Theater at Madison Square Garden in New York City, NY and is promoted by Matchroom Boxing.
Undefeated Puerto Rican super middleweight contender Edgar Berlanga (20-0, 16 KOs) is one of Matchroom boxing's newest signed fighters. Berlanga was a longtime staple under the Top Rank promotional banner but he decided to sign with the British boxing promoter in hopes to land a big fight with Mexican star Canelo Alvarez.
Berlanga is ready to put on a show in front of a heavily Puerto Rican crowd in New York and he will take on the very tough longtime contender Jason Quigley
Irish top contender Jason Quigley (20-2, 14 KOs) sees this fight with Berlanga as another opportunity to show his worth in the division and by stopping a highly touted young contender he can send notice to the division.
Berlanga and Quigley will main event the card in a 12-round super middleweight bout.
The preliminary undercard Before The Bell will feature undefeated young talent from the Matchroom boxing stable.
Undefeated light heavyweight prospects Khalil Coe (5-0-1, 3 KOs) of New Jersey and Buneet Bisla (7-0, 3 KOs) of Canada will face each other in an 8-round contest in the light heavyweight division.
Super welterweight prospect Pablo Valdez (6-0, 5 KOs) of New York puts his unblemished record on the line against Demian Daniel Fernandez (14-4, 5 KOs) of Argentina in a 6-round super welterweight bout.
New York's own Ofacio Falcon (9-0, 6 KOs) takes on Pedro Vicente Scharbaai (7-5-1, 2 KOs) of Puerto Rico in a lightweight bout scheduled for 6-rounds.
Main Card
Super Middleweight – Edgar Berlanga vs. Jason Quigley
Heavyweight – Adam Kownacki vs. Joe Cusumano
Super Lightweight – Reshat Mati vs. Dakota Linger
Flyweight – Yankiel Rivera Figueroa vs. Christian Robles
Before The Bell Prelims
Light Heayweight – Khalil Coe vs. Buneet Bisla
Super Welterweight – Pablo Valdez vs. Demian Daniel Fernandez
Lightweight – Ofacio Falcon vs. Pedro Vicente Scharbaai
Watch Before The Bell: Edgar Berlanga vs Jason Quigley Prelim Live Stream on Saturday, June 24, 2023 at 5:45 PM ET / 2:45 PM PT on Matchroom Boxing's YouTube Channel.