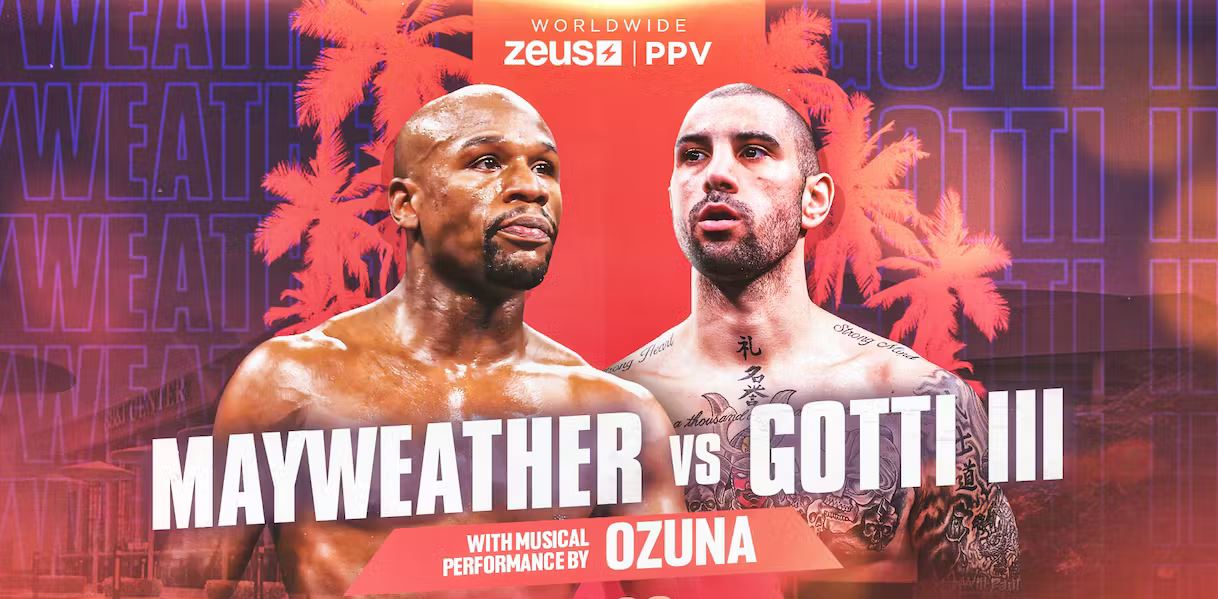 The greatest boxer of all time, Floyd "Money" Mayweather returns to the ring for another exhibition match, this time he will go head to head against John Gotti III the grandson of the famous Mafia boss, on Sunday, June 10 at the FLA Live Arena in Sunrise, Florida.
Mayweather is a boxing hall of famer and multiple division world champion, his greatest feat is making the most money of any boxer in history and retiring from the sport with a 50 and 0 unblemished record.
Now Mayweather goes on exhibition tours where he fights opponents for fun and even if he gets knocked out it won't count on his professional boxing record.
The opponent for Money May on Sunday is MMA fighter John Gotti III and he will have the size advantage on Mayweather. Gotti III weighed in at 180 pounds where Mayweather didn't bother stepping on the scales, because he is used to being the small man in the ring and relies on his skills to pay the bills.
For a fighter like Gotti III this will be a huge opportunity for him to go viral and make a name for himself by knocking out Mayweather. It will be a tough task because even Logan Paul who towered over Mayweather couldn't hurt him in their boxing match.
The undercard will feature former UFC fighter and MMA star Hector Lombard taking on Eric Turner in a four round light heavyweight bare knuckle boxing bout, and also undefeated heavyweight boxing contender Jarrell "Big Baby" Miller will see action on the card taking on Antonio Zepeda in a heavyweight four rounder.
Fight Card
Exhibition Match – Floyd Mayweather vs. John Gotti III
Light Heavyweight – Ulysses Diaz vs. Khalas Karim
Heavyweight – Jarrell "Big Baby" Miller vs. Antonio Zepeda
Bare Knuckle Boxing Match – Hector Lombard vs. Eric Turner
Light Welterweight – J'Hon Ingram vs. Ryan Lee Allen
Exhibition Match – Kamari Burnside vs. Brendan Jackson
How to watch Mayeather vs Gotti III Live Stream Online, Date and Start Time
The fight takes place on Sunday, June 11, 2023 at 9 pm ET / 6 pm PT and will be live streamed on the ZEUS Network Pay-Per-View. For more information visit: https://www.thezeusnetwork.com/products/mayweather-vs-gotti-iii-pre-order