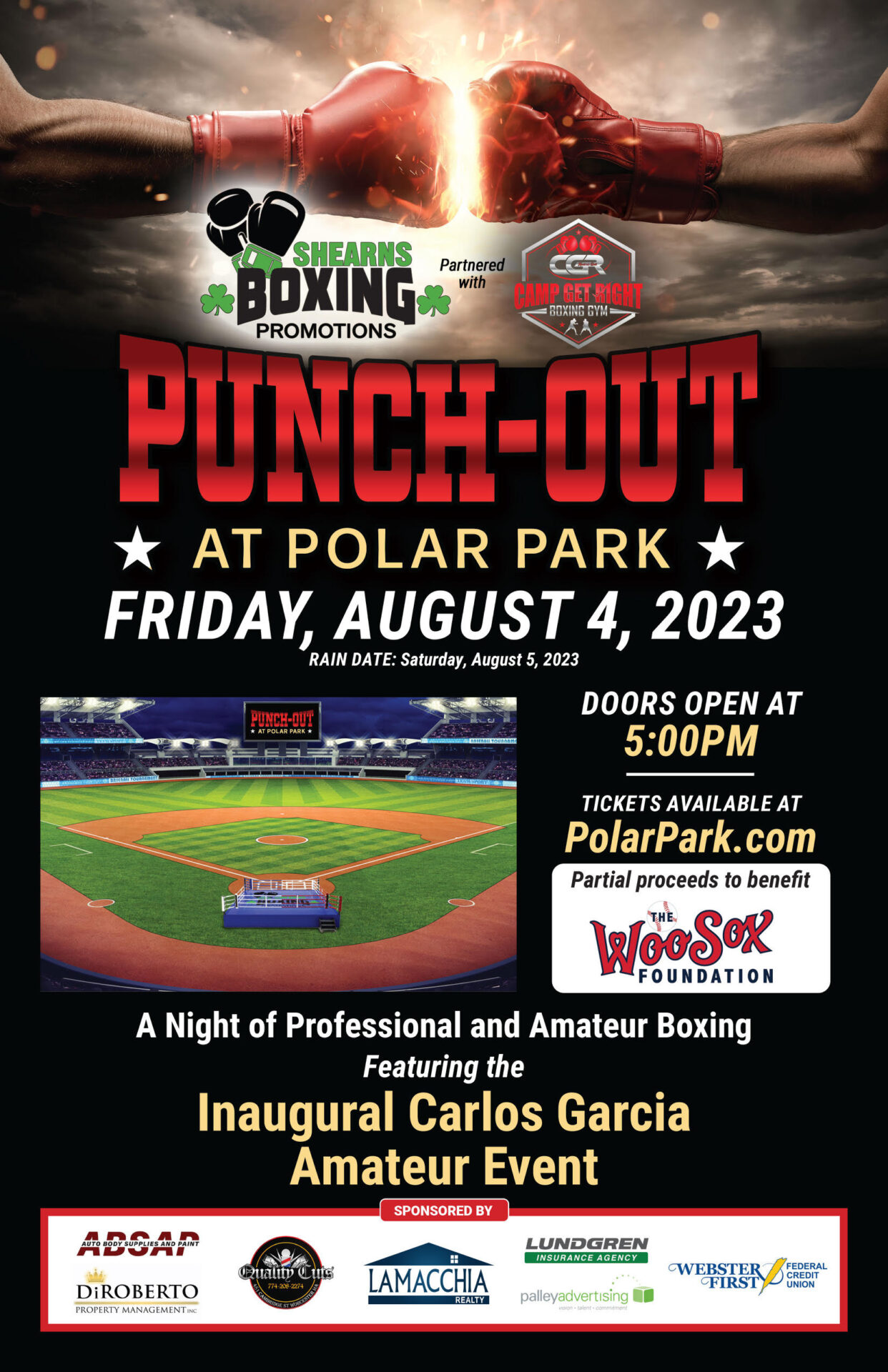 WORCESTER, Mass. (June 22, 2023) –Tickets are now on sale for the August 4th (Aug. 5 rain date) "Punch-Out at Polar Park", presented by Shearns Boxing Promotions (SBP) in conjunction with Kenrick Ball's Camp Get Right Boxing, at Polar Park in Worcester, Massachusetts.
Tickets are priced at $205.00 (Field VIP), $155.00 (VIP), $75.00 (Home Plate Reserved) and $45.00 (Reserved), and available for purchase at Polar Park's box office (508.500.8888), and online at polarpark.com/boxing.
PRO CARD
Main Event – Light Heavyweights (8)
Kendrick "Peppa" Ball, Jr. (20-1-3, 12 KOs), Worcester, MA
Oscar "Moustro" Riojas (28-16-3, 16 KOs), Monterrey, Nuevo Leon, Mexic
Co-Feature – Heavyweights (8)
Sean Bey (7-0, 7 KOs), Providence, RI
Quinton Sumpter (6-1, 4 KOs), Pittsfield, MA
Super Featherweights (6)
"King" Kevin Walsh (9-0, 4 KOs), Brockton, MA
Philip Davis (3-5-2, 0 KOs), Worcester, MA
Welterweights (6)
Josniel "TG" Castro (9-1, 7 KOs), Boca Raton, FL by way of Puerto Rico
TBA
Light Heavyweights (4)
Neal Sullivan (0-0-1), Worcester, MA
Michael Medeiros (0-4), Nahant, MA by way of Brazil
Welterweights (4)
Robert Degaetano (pro debut), Douglas, MA
Micheal "Titan" Taylor (1-5, 0 KOs), Cortland, NY
Female Super Bantamweights (4)
Melanie "Pitbull" Costa (1-0, 1 KO), Norton, MA
Sarah "Switch Kick" Cluck (1-5-1, 0 KOs), Orlando, FL
(card subject to change)
The pro card will start after amateur boxers from throughout New England compete in the inaugural Carlos Garcia Tournament, named after the National Golden Gloves Hall of Fame trainer who founded and operated the highly successful boxing program at the Boys & Girls Club of Worcester for four decades.
Doors open at 5 p.m. ET with the first amateur match starting then (6 p.m. ET), the pro card starts at 7 p.m. ET.
Sponsorship opportunities are available. Please email all inquiries for details to ShearnsBoxingPromotions@gmail.com.