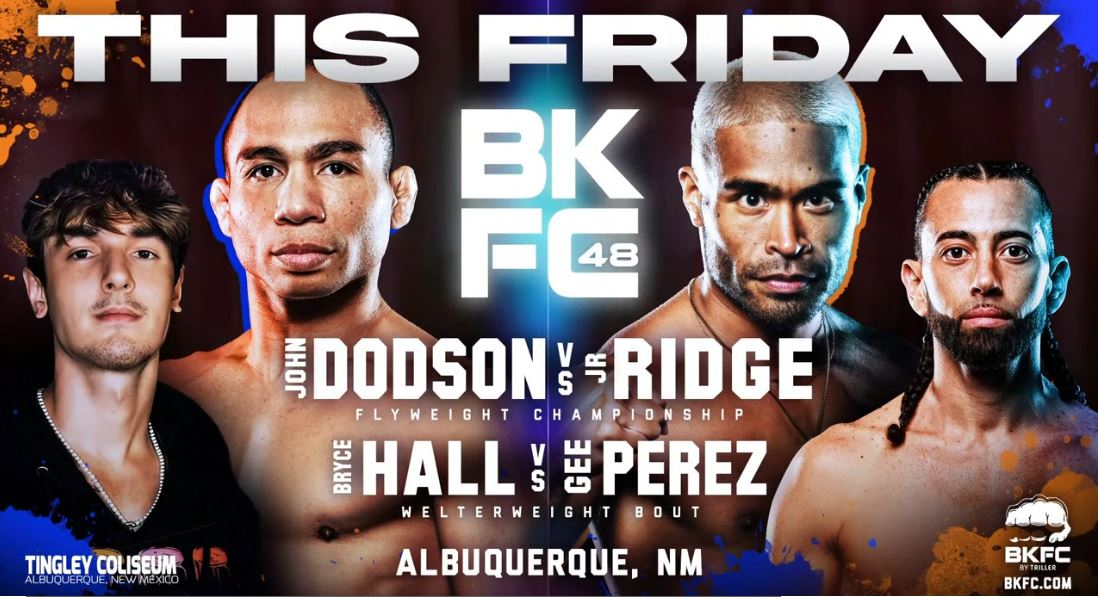 BKFC 48 Albuquerque: John Dodson vs JR Ridge and Bryce Hall vs Gee Perez will take place on Friday, August 11 at the Tingley Coliseum in Albuquerque, New Mexico.
Before the main card Pay-Per-View, fight fans can watch a FREE live stream preliminary fight card on YouTube featuring three bouts leading up to the main card.
Bare Knuckle Fighting Championship is the fastest growing combat sport and the fight cards keep getting better and better with non-stop action and excitement.
BKFC 48 will be headlined by the former UFC title contender John Dodson and JR Ridge fighting for the Men's Flyweight Championship.
Dodson is an explosive hard hitter who trains out of the state of New Mexico and he will be the favorite heading into the bout and comes with an undefeated record of 2 and 0.
Ridge has a record of 3-1 in the BKFC and he is eager to go toe to toe with fellow Filipino fighter Dodson. Both fighters are of Filipino descent and it will be a can't miss match between two warriors who respect each other and come from similar backgrounds.
The Co-main event has Tik Tok sensation Bryce Hall making his Bare Knuckle debut against undefeated BKFC contender Gee Perez.
Hall considers himself made for Bare Knuckle, in his first boxing match he fought Austin McBroom and lost by stoppage, on Friday he is looking to redeem himself and face off against one of the top guys in the sport.
Perez is no cake walk for Hall and he is ready and willing to crush Hall's dreams of becoming a star in the sport of Bare Knuckle.
BKFC 48 Fight Card
John Dodson vs JR Ridge
Bryce Hall vs Gee Perez
Joshua Moreno vs Jeremy Sauceda
Keith Richardson vs Derek Perez
Will Santiago vs Jeremie Halloway
Eric Dodson vs Roberto Armas
Richard Montano vs Kyle McElroy
Sydney Smith vs Melanie Shah
Marc Entenberg vs Darrick Gates
Donald Sanchez vs Blake LaCaze
Anthony Sanchez vs Gene Perez
Austin Lewis vs Justyn Martinez
Watch the BFKC 48 Free Live Stream Fight Prelims Show on Friday, August 11, 2023 at 7:00 PM ET / 4:00 PM PT on YouTube (Video Below).