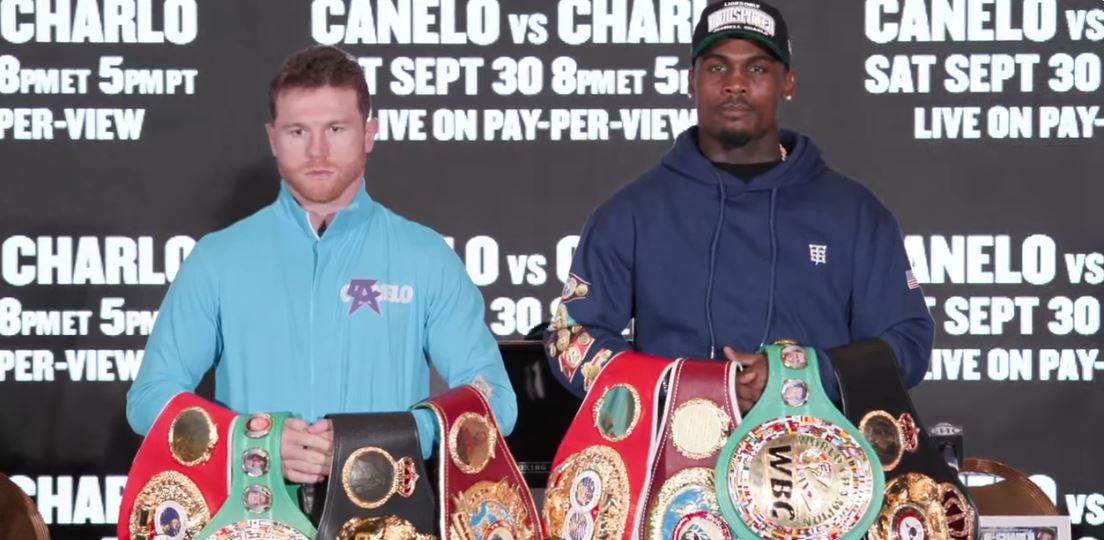 The weigh-in for Saul "Canelo" Alvarez vs. Jermell Charlo is over and they both weighed in at 167-1/2lbs for their undisputed super middleweight championship bout on Saturday, September 30th. What does that mean?
Well, it means the weight they put on before the fight is liquid weight, not Muscle.
That's important because it means one guys has little muscle more than the other, if any at all.
Continuing; the amount of liquid weight they gain is related to the amount of "Blood Sugar" their body will store. Which means the guy that lost the most liquid weight, to make the weight, if allowed to fully hydrate, will be less likely to tire or run out of gas, as they say.
But its more than Water. They have to carbohydrate load because muscles work off Sugar and Oxygen.
Drinking Electrolytes is not enough you need Carbohydrates.
That said, we will be able to know or have the answer to this question by which one of the two weighs more at fight time.
Hang with me and I'll make my point.
When you are at the highest skill level and working very long hours, very hard, the yield is very little gain. Here is why this is true. For example, when you have a knife to sharpen and you begin the process, the blade changes the most early in the process, but as you continue to sharpen the blade its ability to become more and more sharpened is lesser and less until you reach a point to where more sharpening begins to dule the knife.
The point I'm making is just because a fighter says he's been working real hard and they had a great training camp doesn't mean that they will be any better than they have ever been.
Don't expect them to be faster, don't expect them to hit harder. You can only expect them to be smarter for this fight, if they have a smart game plan and can stick to it.
We assume their conditioning is solid.
Oscar De La Hoya says, "Size matters. A good little man always gets beat by a good big man. Canelo is a good big man." I hear ya Oscar, but is Charlo a good little man? NOT!
Charlo is a Good Big man. It looked to me that Charlo was every bit the size of Canelo.
Let us go to the "Tale of the Tape".
It appears that Alvarez has experience on his side, big fight experience, which speaks volumes.
He also has knock out percentage on his side, but I don't believe it to mean much. When you look at the last 10 fights, Charlo's percentage is just as good.
Charlo has Height, Reach advantages and a couple of things not listed on the Tale of Tape such as Hand Speed and Foot Speed. These attributes mean nothing if the fighter you are fighting can counter punch and cut the ring off. Guess What? Canelo can Counter Punch and cut the ring off.
Characteristics and Tale Of The Tape
Canelo Alvarez
Height: 5'9″
Reach: 70.5″
Weight: 168 lbs
Age: 33
Experience: 63 fights
Record: 59-2-2 (39 KOs)
Stance: Orthodox
Jermell Charlo
Height: 6'0″
Reach 73″
Weight: 168 lbs
Age: 33
Experience: 37 fights
Record: 35-1-1 (19 KOs)
Stance: Orthodox
It's beginning to look like a close fight.
So, let's drill down a little with a few questions.
Who is most likely to be in better shape?
I would say Charlo, but I don't know if it's true at 168lbs.
Who has the most power?
Hum, knockout percentages are about the same over the last 10 fights.
Charlo's power may not translate to 168lbs. Alvarez has a pretty good chin and Charlo has been down once in what would be considered a flash knockdown.
I'll say power is a Draw.
Who has the best Ring IQ?
Because of his experience you have to say Canelo?
Who has the most wear and tear?
Hum, Canelo has more fights and hasn't looked good over his last three fights. He says he was hurt and that explains the poor performances and he is not slipping.
I believe this is the fight that explains whether he has slipped. But he does have 63 fights and he has got to be more worn. The nod goes to Charlo.
So, what does it all mean?
It means it is a pick-em fight with a slight edge to Canelo because of his experience.
I don't think Canelo has a size advantage. Canelo is naturally smaller; he is genetically smaller.
Canelos has been fighting bigger men and Jermell has sparred with big strong men.
I believe it's a pick'em fight. Either man could win by knock-out and either man can win on the cards unless the cards are close and in that case Canelo wins, he has the history for those types of wins.
He is very popular, and he generates revenue. Close Card means Canelo wins.
It's a win for Charlo if he doesn't get knocked out, which is highly likely.
MAY THE BEST MAN WIN!!
P.S. I asked AI (artificial Intelligence) to list Canelo's last 10 fights and it returned a Canelo win over Charlo, 11th round TKO. Was that a Glitch or does AI know something.