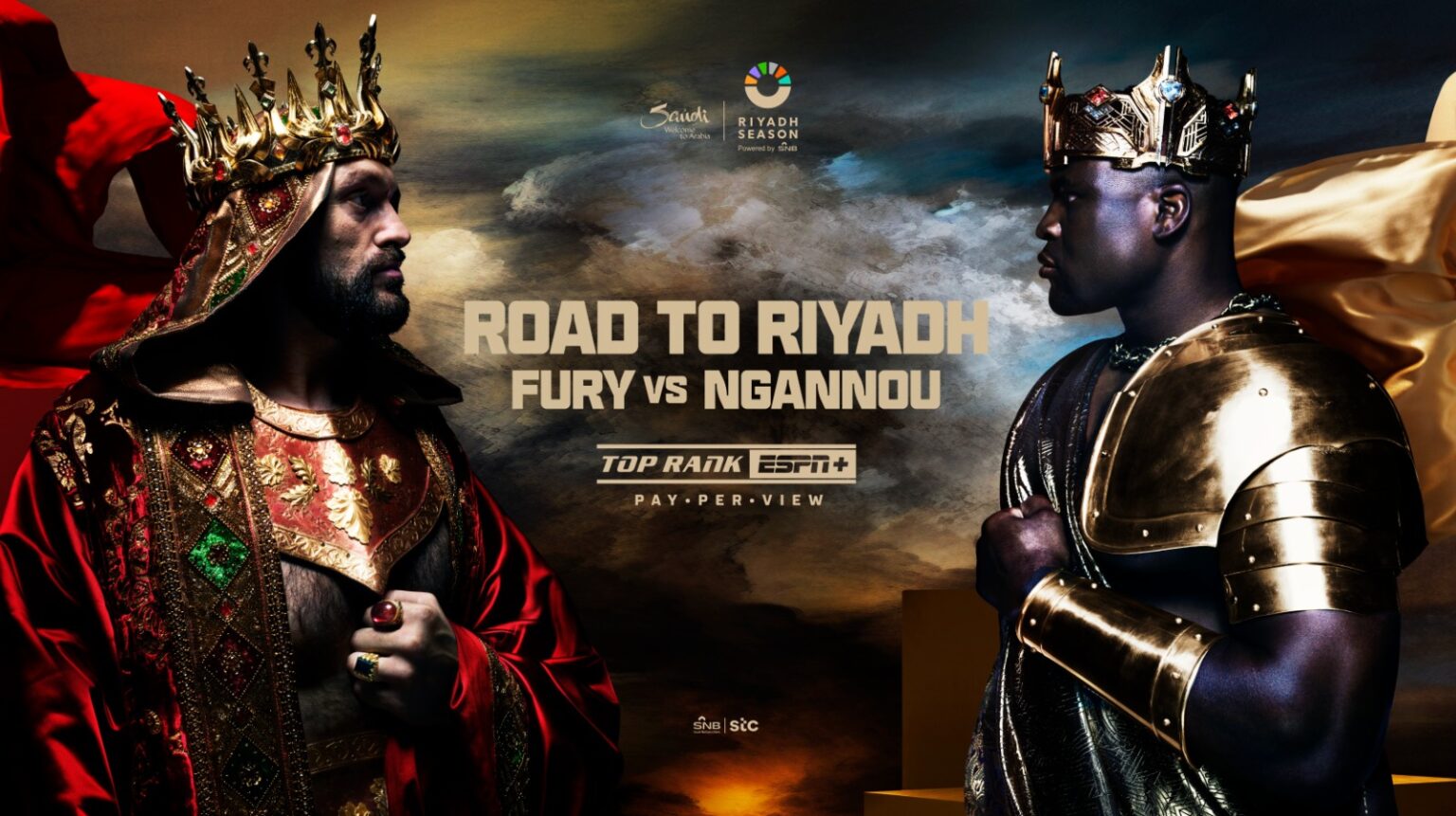 (ESPN Press Release) – On Saturday, October 21, ESPN will premiere the original program: Road to Riyadh: Fury vs. Ngannou, a 30-minute all access preview of combat sport's crossover event of the year featuring WBC & lineal heavyweight boxing world champion Tyson "The Gypsy King" Fury (Boxing record: 33-0-1, 24 KOs) versus lineal MMA heavyweight world champion Francis Ngannou (MMA record: 17-3, 16 Finishes) in a highly anticipated 10-round boxing match.
On Saturday October 28, at 2:00 p.m. ET/ 11:00 a.m. PT, Top Rank on ESPN+ PPV will stream the all-heavyweight boxing event live from Riyadh, Saudi Arabia. The long-awaited battle between two giants in their fields kicks off Riyadh Season, a months-long entertainment and sports festival in the Kingdom's largest city.
Fight Card
Heavyweight – Tyson Fury vs. Francis Ngannou (10 rounds)
Heavyweight – Fabio Wardley vs. David Adeleye (12 rounds)
Heavyweight – Joseph Parker vs. Simon Kean (10 rounds)
Heavyweight – Arslanbek Makhmudov vs. Junior Anthony Wright (10 rounds)
ESPN+ is available on ESPN.com and the ESPN App for mobile and connected TV devices.
In addition to the airtimes below leading up to the October 28 event, Road to Riyadh: Fury vs. Ngannou will be available for replay on-demand in the ESPN App and on ESPN.com and ESPN+.
Road to Riyadh: Fury vs. Ngannou TV Schedule Date, Channel and Time:

Saturday Oct 21 on ESPNEWS at 6:30 p.m. ET / 3:30 p.m. PT
Sunday Oct 22 on ESPN2 at 2:30 a.m. ET / 11:30 p.m. PT
Monday Oct 23 on ESPN2 at 11:30 p.m. ET / 8:30 p.m. PT
Tuesday Oct 24 on ESPN2 at 3:00 a.m. ET / 12:00 a.m. PT
Thursday Oct 26 ESPN2 12:00 a.m. ET / 9:00 p.m. PT
Thursday Oct 26 on ESPNEWS at 5:30 a.m. ET / 2:00 a.m. PT
Friday Oct 27 ESPN2 6:30 a.m. ET / 3:30 a.m. PT