Roy Jones jr. came in 175 even
Joe Calzaghe at 174 a pound below the limit
This will be one of the biggest fights of Welsh boxer Joe Calzaghe's career.
He already beat everyone there was to beat at the super middleweight division and now stepping up to light heavyweight to fight a legend like Roy Jones Jr. in New York is a great achievement for the Welshman.
For Roy Jones Jr. he must make an impression early and prove to the world that he still has what it takes to compete at the top level after having ups and downs and a shocking fall from grace in the Antonio Tarver and Glen Johnson fights being knocked out viciously back to back taking away his superman aura.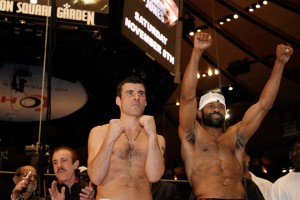 Make sure to watch Joe Calzaghe vs. Roy Jones Jr. live on HBO.