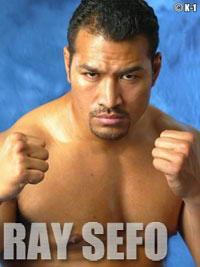 By LEE UMBERS
KIWI kickboxing legend Ray Sefo is in a legal battle over rent arrears on a gym which has already seen his one-time manager and former fight promoter Dixon McIver take a financial knockout blow.
Sefo, a five-time Muay Thai world champ, and McIver guaranteed a lease by a company they were shareholders in on the Ray Sefo Fight Academy/Planet Health gymnasium in Henderson, west Auckland.
But the gym has closed, the company has gone into liquidation, and Taylor Construction, which owns the building, was awarded a judgment at Waitakere District Court for $72,614.46 against the pair and their company.
With McIver being bankrupted over the debt in July, and the company bust, the owners have now turned their sights on Sefo.
On November 21, Auckland High Court associate judge David Abbott gave permission for Taylor Construction to have a bankruptcy notice served on Sefo, now living in Las Vegas.
But the kickboxer and PlayStation game hero, whose career earnings were estimated at $16 million in 2004, is refusing to pay blaming the debt on McIver….Full Story