MONTREAL — Retired boxing champion Arturo "Thunder" Gatti was freed on bail Friday after spending a few nights in jail for failing to show up for a court date he had scheduled.
The Montreal-born fighter was first arrested last month and charged with assault on his girlfriend. But neither Gatti or his lawyer showed up for his arraignment on April 7, 2009 which led to his arrest Wednesday night at a Montreal strip club where he was reportedly celebrating his birthday.
Gatti held the IBF super featherweight championship from 1995 to 1998, and the WBC light welterweight title from 2004 to 2005.
He is best known for his blood and guts style of fighting and his wars with Irish Micky Ward.
His last professional fight was July 14, 2007 against Contender reality tv star Alfonso Gomez, he lost by TKO in round 7 and retired from boxing.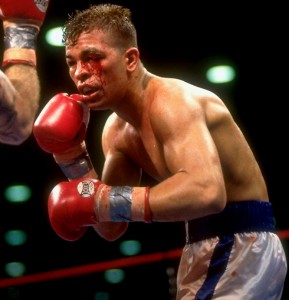 Gatti was born in Italy, grew up in Montreal, Quebec, Canada and later moved to New Jersey in the United States and trained in Miami, Florida for his last few fights.