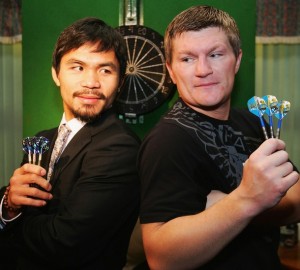 LOS ANGELES (Reuters) – The IBO light-welterweight title fight between Ricky Hatton of Britain and Filipino Manny Pacquiao next week has been sold out, organisers said on Tuesday.
A capacity crowd of around 16,000 is expected to attend the MGM Grand Hotel and Casino in Las Vegas for the May 2 bout.
Hatton (45-1, 32 KOs), who has never lost at his natural weight of 140 pounds, will defend his IBO light-welterweight belt against former four-weight world champion Pacquiao.
Southpaw Pacquiao, 48-3-2 with 36 knockouts, is widely regarded as the best pound-for-pound fighter in the world.(Source)
Visit the NowBoxing Forum